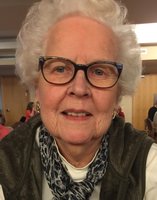 Evelyn Thersa May Playford
Playford, Evelyn Thersa May
Our courageous and beautiful mother, Evelyn Thersa May Playford, went to be with our Lord and Saviour on Tuesday August 1, 2017. She fought long and hard to stay with us, never losing her positivity, dignity and faith. Mama was born August 13th 1932 in Kirkland Lake, Ontario
She passed away peacefully, holding her grandson Christopher's hand. We gain strength at this difficult time knowing she is now residing pain free in the Kingdom of Heaven.
Mama was known for her incredible smile, and warm personality, and was loved by all who knew her. She was called "Nana" by people from all over the world, and was known to be the "world's best prayer warrior". Friends, family and even strangers asked "Nana" to pray for them. She kept journals over the years with lists of names and prayer requests. Each morning, Mama would sit and pray for everyone on her list. When people called her, she always responded with "how can I pray for you?".
Mama traveled many times to the Middle East to visit family. Before Mama's decline she enjoyed living in Abu Dhabi. We are very grateful for all the Christmas' in the desert, campfires under the stars, camel rides, music concerts, sporting events, award ceremonies, ball games, and Boy Scouting activities, that her grandsons were involved in.
Mama's last big trip was to Egypt. As we arrived, Mama broke into song singing, "I see the Pyramids". Her fondest memory was of grandson Christopher, lifting her out of her wheelchair to see sites, and up and down endless stairways to have a better view. Mama was happiest when she was with her family, and was incredibly proud of her grandsons. She adored her son-in-law Ken, and they shared a loving, and close relationship.
Mama had a lovely singing voice, enjoyed cooking for family, and making chocolate desserts for her grandsons. She also had a wonderful sense of humor, which was passed down the generations!
Mama spent years volunteering at a hospice center caring for AIDS patients who were terminally ill. She refused to let anyone pass away alone, or without knowing God's love. Even when Mama began having mobility issues, she insisted on spending a few days a week caring for the terminally ill.
Faith, love, and strength were taught through example.
One of mother's biggest joys was her Abu Dhabi rescued cat named "Sophie". They provided each other much happiness over the years.
Mama is survived by daughter, Kimberley Dittrich, son-in-law Dr. Ken Dittrich, sons Geoffrey (wife Brie) and Christopher. Great Nana to Azaleah, Maisley and Aerlie Dittrich, sons Robert and Jay Playford (partner Mary Anne and grandson Justin) Sister to Ruth Schlegel, and Auntie to Andrea, Melissa and Elizabeth, and several relatives.
She is predeceased by her beloved husband, John Clive Playford, her dearly loved mother, Earlene Storie, and brother Calvin Storie. Also predeceased by many loved relatives.
Thank you to the staff on Cider Mills at Sunny Side Foundation for all your wonderful care and endless kindness towards our mother, and our family. You not only became her prime caregivers when her health severely declined, but you became part of our family.
Thank you so much to our closest friends who were always there for us over the course of this difficult journey. Gladys, Doug, Bill, Carla, Angie, Annette, Raj, Norma, Geraldine, Gerry, Laurie, Olive, and especially to Nana's loyal friend since his childhood, Troy Seidle. She loved all of you, and appreciated your wonderful visits.
Love you to the moon and back, Mama. Sleep well.
"To me to live is Christ, and to die is gain". Philippians 1:21
Friends are invited to share their memories of Evelyn with her family during a memorial visitation at the Erb & Good Family Funeral Home, 171 King St. S., Waterloo on Sunday September 17, 2017 from 9:00 – 10:00 a.m. with a memorial service to follow in the chapel of the funeral home at 10:00 a.m. Reception to follow in the funeral home's fireside reception room.
In lieu of flowers or donations, we ask each of you to whisper a prayer for someone in need, or do act of kindness in our beloved mother's name. Condolences for the family may be made by contacting the funeral home at www.erbgood.com or 519-745-8445.