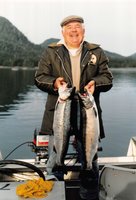 Cecil Ernest Bell
Of Waterloo, passed away peacefully at The Village of University Gates, Waterloo on Sunday, November 26, 2017 after living a wonderful 99 years!
Cec, as he was known, was born in a farmhouse just south of Stayner, Ontario, on March 13, 1918 to Ernest and Jennie Bell. Survived by Sylvia Bell (Purdy), his loving wife of 74 years and their two sons, Don and Rick, four grandchildren, Lauren, Taylor, Trevor and Bronwyn and a recent great-granddaughter, Taylor.
After serving his country with the R.C.A.F. in WWII, he continued his 43 year banking career with the T.D. Bank. Cec and his bride, Sylvia were a great team! Each bank promotion meant a move to a new city and the task of setting up a new family home. They thrived at meeting new friends and expanding their long list of leisure activities which included golf, curling, square dancing and bridge. Cec managed to volunteer some of his precious spare time to the church and service work. They traveled extensively with both family and friends to destinations near and far with Cec documenting their adventures with photo albums filled with pictures of everywhere they went and everyone they met along the way. Cec loved to relate stories and tell jokes. He had a keen sense of humour that brought a laugh and a smile to all who knew him.
He is also survived by his brother, Eldon and wife Audrey (Reinhart), sister Joyce and husband Morris Ackerman and his brother-in-law, Waldron Eckstein, and many cousins, nieces and nephews.
He was preceded by his sister, Gladys, and her husband Wilfred Atkinson and his sister, Doreen, wife of Waldron.
As per Cecil's wishes, cremation has already taken place. We will all miss Cec. We were fortunate to have had such a great guy with us for so long.
Sleep well, dear father. And go in peace. Your patience, kindness and unconditional love will never be forgotten.