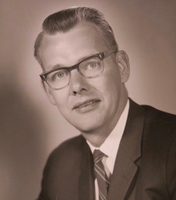 John Rutherford Rhodes
It is with great sadness that the family of Dr. John Rhodes announce his passing on Sunday September 8, 2107.
Dr. Rhodes was born in Chatham on September 24, 1929.
He was predeceased by his parents Jean and John Rhodes of Chatham and his wife Guinevere (Gwen) of Kitchener-Waterloo. He is survived by his first wife Muriel of Kitchener and their sons Ted and spouse Reneta of Calgary, Doug and spouse Edie and Bob and spouse Sue, of Kitchener. And stepson Dave Seibert and his wife Judy of Kitchener and stepdaughter Guin and her late husband Ed Bihun of Ohio. He also survived by his brother sister Chap Rhodes and Lynne of Vancouver and Helen Steele and Dick of Iona, Ontario.
He has 5 grandchildren, Douglas, Micheal, Nick, Alex and Stephanie Rhodes. And 9 step-grandchildren, Dave and Judy's children Stephanie Stretch, Jeffrey, Derek, the late Steven Seibert, Mary Jane Thomas and Mark Ford as well as Guin's children Debbie, Trudy and the late Mark Bihun.
John attended the University of Western Ontario and received a BA in Science in 1951 and his MD in 1955. He spent a year in family practice in Oshawa then returned to London at Victoria Hospital where he specialized in Diagnostic Radiology.
He came to Kitchener-Waterloo and KW Hospital in 1960. In 1965 he opened his first of a series of private X-ray clinics in Kitchener and Waterloo.
He was an avid golfer and curler at Westmount Golf and Country Club in Kitchener-Waterloo and was also a member at Bears Paw Golf Club in Naples, Florida.
When he was no longer able to golf or curl, bridge became his passion.
At his request he has been cremated and there will be no funeral service or visitation. A reception honouring his life will be held at his beloved Westmount Golf and Country Club on Sunday October 15, from 1 to 4pm.
In honour of his long time companion Sporty the cat he has requested that, in lieu of flowers, donations be made to the Humane Society of your choice.