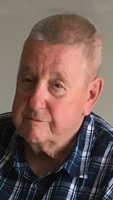 Morris Giilck
On February 7, 2019 after a long, but brave battle with Parkinsons, at age 86, he donned his engineer's hat and boarded his steam engine and drove it to his eternal destination...heaven.
Saddened, yet relieved, in the passenger cars, are his wife, Shirley (Jackson), just short of 67 years, his brother, Larry (Sandra, deceased) his daughters, Wendy (Jim Dankwardt), Barbara (Phil Henry), Beverley (Rick Small) and Laura (Dave Kuehl, deceased); grandchildren, Jarid (Shannon), Nicole, Daryl (Helen), Natalie (Chris), Meghan (Mike), Karalee, Derek (Kayla); great-grandchildren, Gabrielle (Colin), Emily, Cheyenne, Jordyn, Madilyn, Jaida, Blythe, Oscar, Uriah, Glenn, and Cole; great-great-grandchildren, Lilly and Chloe. In the caboose, best friends, John and Elaine Sachs.
Left behind at the station waving, many tourists that he touched along the way.
He was a hardworking man, who found it hard to be funny, but loved to be around fun-loving people.
He was a fixer of everything and took that role with pride and everything trains describes his biggest hobby.
The family would like to thank the amazing staff, nurses and PSW's at Riverbend Retirement Home for their compassion, and constant thoughtfulness to his everyday needs. You went over and above our expectations.
A Celebration of Life will be held on Saturday, March 16, 2019 from 2 p.m. - 5 p.m. at the Waterloo Rod and Gun Club, 1075 Bode Lane, St. Jacobs, Ontario.
Condolences for the family and donations to Riverbend Home would be appreciated and can be arranged through the Erb & Good Family Funeral Home 171 King St. S., Waterloo Ont., N2J 1P7 at www.erbgood.com or 519-745-8445.