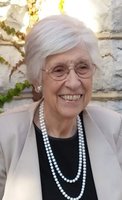 Doris Ivy Dixon
Passed away peacefully at The Village at University Gates on Tuesday, March 5, 2019, at the age of 86.
Doris is survived by her loving husband, Paul Richard Dixon. She was a dear mother to Stephen Dixon (Karen) of St. Jacobs, Katherine Thompson (Stephen) of Halifax, and Sarah Jewett (Jeff) of Waterloo. She is fondly remembered by her grandchildren Chantelle, Adam, Julia and Jordan; Celina, Kendal and Stuart; Samantha and Emma and great grandchildren Cole, Campbell, Callum and Blythe. Doris is also remembered by her cousins Patricia Steinwedl (Jordan) and John Jordan.
Doris was born in North London, England, on April 26, 1932 to the late Harold Jordan and Ivy Jordan (Lambarth). She is predeceased by her brother, David Jordan.
During her early years, Doris worked for a brief period of time in a flight test department of a large aircraft manufacturer and trained in staff management (Human Resources). She spent two years managing at Marks and Spencer. Eventually Doris married and started a family. The family moved to Canada in 1965 settling in Port Hope, Ontario. From there the family found their home in many places across the country including Ancaster, Dundas, Cobourg, Charlottetown (PEI), Sherwood Park (Alberta), Halifax (Nova Scotia) and Brantford, Ontario. Eventually, Doris and her husband settled in Waterloo.
Doris, also known as Jane for many years in Canada, was a very talented artist with a focus on painting and drawing. She also enjoyed sewing and was an expert knitter. Doris's greatest accomplishment was her family and always had a story to share about each and every one of them.
Doris's family would like to extend their sincere thanks to the amazing staff at The Village at University Gates and, in particular the staff in the Hagey Neighbourhood. Their thoughtful care and compassion has been greatly appreciated.
The family will be celebrating Doris's life at a later date.
In lieu of flowers, condolences for the family and memorial donations to either the Heart and Stroke Foundation or the Grand River Regional Cancer Centre is appreciated and can be arranged through the Erb & Good Family Funeral Home, 171 King St. S., Waterloo N2J 1P7 at www.erbgood.com or 519-745-8445.