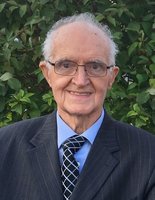 Ronald Paul Berger
Ron passed away peacefully in his 87th year on March 7th, 2019, after a full life. He was the devoted husband of the late Helen Diebold (2002) for 46 years, and presently a dear friend and husband to Glady Martin for 14 years. He will be greatly missed by his only son Paul (Christine), step-grandsons John (Gina) and Eric (Tess) Dermody, of Rockwood.
He is survived and will be remembered by his brother Rudy from Montreal, niece Julie, nephew Denis, step-son Jeff (Michele) Martin of London, stepson in-law Stephen (Morag) Costello of Sudbury, step-grandchildren Danielle, Jordan, Spencer Martin, Thomas, Brendan, Erica and Jacob Costello and in-laws Rita and Ted Maclean and Mary Ament. He will also be remembered by many old friends and relatives.
Ron was predeceased by his parents Leo Berger and Rosa Menard, dear sisters-in-law Rita Berger and Grace Strauss, brother-in-law Glenn Ament and Fr. Art Busch.
Ron was an employee of B.F Goodrich for 32 and a half years before joining the work force of Ontario Seed Company for over 35 years. Ron was a member of the Knights of Columbus, served as financial secretary for Council 5135 for 25 years and is presently a member of the retirees' club.
Ron was an ideal "handyman" and enjoyed working and repairing things including electrical, plumbing, painting, carpentry, etc. He loved lawn work, planting, cutting the grass, picking up leaves and refurbishing top soil. He enjoyed dancing, swimming, live theatre and cards.
The family will receive friends and family at the Erb & Good Family Funeral Home, 171 King St. S., Waterloo, on Sunday, March 10, 2019 from 2-5 p.m. A funeral service will be celebrated in the funeral home's chapel, on Tuesday, March 12, 2019 at 10:00 a.m. Burial will take place immediately following the service at Parkview Cemetery. Friends and family are invited back to the funeral home for a time of reception to share memories and meet with the family after the burial. Nurses of 6C and GRH cancer ward, Ron is expecting to see you!
As an expression of sympathy, donations may be made to the Grand River Research Cancer Centre and can be made through the funeral home at www.erbgood.com or (519) 745-8445.