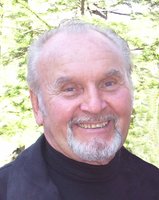 Walter Guderian
Walter passed away peacefully at home surrounded by family late in the evening on September 2, 2019 at the age of 83. Walter was born in Germany on April 6, 1936 as the third son in a family of nine. He came to Kitchener, Canada with his family in 1956 where he met the love of his life, Evelyn Froehlich. They married on June 25, 1960 and had three children: Angie (David Holloway), Doug (Karen) and Marcel.
Walter had apprenticed with an elevator company in Germany and soon found work in the elevator industry in Canada. In 1967, Walter founded Delta Elevator and with the help of his wife and children grew Delta to become a large company that is well known across the country.
When he was diagnosed with prostate cancer two years ago, Walter was confronted with his mortality. He had always been interested in philosophical and spiritual discussions but now he felt strongly that he needed to decide where he was spending eternity. He reaffirmed his faith in God and was at peace with his eternal destination and wanted those he loved to be there with him when their time came.
Walter enjoyed being busy with projects large and small: from gardens to building houses, starting with the family home on Bridge St, Waterloo, to later, their dream home near Washington, Ontario.
He loved spending time with his family, including his six grandchildren: Rachel, Daley, Bianca, Sierra (George Simopolis), Amber and Marina.
He enjoyed sailing, and travelling, including to their island cottage on Georgian Bay and their Florida home on Sanibel Island.
Walter was always generous with his money, time and advice. He enjoyed meeting new people and he always made an impression and most of them became friends. He will be greatly missed.
Walter's family will receive friends at the Erb & Good Family Funeral Home, 171 King St. S., Waterloo on Thursday, September 5, 2019 from 1-3 and 7-9 p.m. The funeral service will be held at Koinonia Christian Fellowship, 850 Sawmill Road, Bloomingdale on Friday, September 6, 2019 at 1:00 p.m. A reception will follow at the church.
Condolences for the family and memorial donations to the Cardiac Fitness Association may be arranged by contacting the funeral home at www.erbgood.com or 519-745-8445.