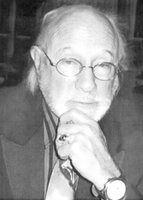 Dr. Donald Ranney
Dr. Donald RANNEY MD, FRCS
Passed away peacefully at Hospice Wellington on Monday, September 9, 2019 at the age of 87 years.
Survived by his loving wife Danielle, his children Linda Ranney (Markku Wollstein), Alan (Mary) Ranney, John (Kelly) Ranney, Kim Pearl, grandchildren Shawn, Samantha, Jacob, Emma, Jessica, Nicole, Sullivan and Theodore as well as great grandchildren Ashton, Ainsley, Jillian, Owen and Chloe. Don is also survived by his brother Ken Ranney(Jenny Carter) and sister Marion (Bill) Skiffington. Predeceased by his parents Ernest and Dorothy Ranney.
Dr. Donald Ranney was a Professor Emeritus in the Department of Kinesiology, University of Waterloo. He was trained as an orthopaedic surgeon and became the chief of surgery at The Leprosy Mission, Schieffelin Leprosy Research Sanatorium, Karigiri, in South India. He was then Visiting Assistant Professor of Anatomy at Queen's University. He joined the University of Waterloo as associate professor, Department of Kinesiology and became founder and head of the School of Anatomy in 1978. He was a member of the Occupational and Environmental Committee of the International Federation of Societies for Surgery of the Hand (since 1992) and a consultant in Orthopedic Medicine. He was president of Disability Assessment Services, Inc. Don enjoyed parachuting, camping, canoeing, hiking, skiing, roller blading and ball room dancing but most of all he enjoyed spending time with his family and his dog Bear.
Friends are invited to share their memories of Don with his family during memorial visitation at the Erb & Good Family Funeral Home, 171 King St. S., Waterloo, on Sunday, September 15, 2019 from 1:00 – 1:45 pm. A memorial service will follow in the chapel of the funeral home at 2:00 pm. A reception will follow in the Fireside Reception Room. Cremation will have already taken place.
Condolences for the family and donations to Wellington Hospice, the Kidney Foundation or to People for the Ethical Treatment of Animals (PETA) may be arranged through the funeral home at www.erbgood.com or 519-745-8445.