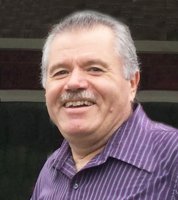 James Clarence Ditner
Ditner, James Clarence
Passed away peacefully after a brief battle with cancer, surrounded by family at Cambridge Memorial Hospital, Cambridge on Monday, October 7, 2019 at the age of 57 years.
He is predeceased by his parents Clarence Edward Ditner and Helen Elizabeth Ditner (Robertson), and infant brother Peter. He is survived by his siblings Kathleen Alderson (Robert), John Ditner (Janice), Mary Lou Hoogsteen (Stu), Joan Bryant (Mervyn), and Sandra Blenkinsopp (Geoffrey).
He will be missed by many nieces, nephews, great-nieces, and great-nephews: Scott Alderson (Keri), Max and Morgan; Dave Alderson (Kristie), Maddy and his lefty buddy Logan; Carrie Guy (Dennis), Scarlett, Lincoln and "Super g" Gibson; Mark Alderson (Katie); Simon Ditner (Fan Chen), Fei-Min and Han-Li; Colleen Bonner (Martin) and Isla; Karl Ditner (Janel), Alan, Kate and Jade; Matthew Hoogsteen; Jane Cannell (Ben), Benjamin and Naomi; Patrick Hoogsteen (deceased as infant); Sarah Hoogsteen; Christine Gidda (Tej), Jareth, Brynn, Laurel and Aubrey; Jennifer Thornton (Brian), Alivia, Addison, Ava and Ashley; Jeff Bryant (Thy Nguyen); Moira Blenkinsopp; Theodore Blenkinsopp.
Jim was always very generous and thoughtful to those around him and he will surely be missed. His family, his many friends, his work family, the local wildlife, his close neighbours, and his part-time cat Charlie were blessed with his big-hearted way of giving. Rarely seen without a smile, he enjoyed travelling, the theatre, wood working, food, watching ultramarathons, and never-ending home improvement projects; more importantly, he was devoted to activities that allowed him to spend time with family and friends.
Jim worked many years with St Marys Cement, starting off in Operations/Plant Automation, Production Systems and most recently held the title of IT Project Manager, North America.
Like his unique A-frame house that sits near the top of the hill, Jim's A+ spirit will be cemented in our hearts and minds forever.
A Celebration of Life will be held Thursday October 17, 4 - 8 pm at Whistle Bear Golf Club in Cambridge. Cremation has taken place and Jim's ashes will be interred with his parents at St. Agatha RC Cemetery in St. Agatha, ON.
In lieu of flowers donations to the Canadian Cancer Society may be arranged through the Erb & Good Family Funeral Home at www.erbgood.com or 519-745-8445.