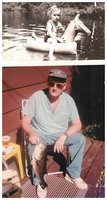 Dr. Charles Robert Bateman
Died peacefully from complications of pneumonia with his children Dave and Jane by his side, at St. Mary's Hospital, October 8, 2019. Son of the late Edgar Bateman, (1996) and Alice Sulman, (1942) of Belleville, Ontario, and step mother Lenore Stafford, (2003) also of Belleville. Predeceased by his wife of 44 years, Sheila Marr of Elmira (2004) and son Robert, (2016). Loving father of David, (Susie), and Jane, (Robin) of Canmore, Alberta. Dear papa to grandsons Dexter and Morgan and grand daughter Myla, all of Canmore. He is survived by his Brother John, (Sherry) and nephew Jeff, of Nepean and sister Anne.
Dad grew up in Belleville, and was a graduate of Trinity College School in Port Hope, he went on to study medicine at the University of Toronto. He practiced family medicine in Stratford for two years, then returned to school at the U of T, (Sunnybrook) to study eye surgery. He finished up at McGill and the Royal Victoria Hospital in Montreal, (finding time to attend Expo 67). He practiced in Waterloo Ontario from 1968 to 2004. His pride and enthusiasm for the practice of medicine and all aspects of living, broadened the scope of his involvement with his patients in an otherwise narrow specialty. It is safe to say now, where all of the cotton scrubs disappeared to from the local hospitals! A long-time member of Westmount Golf Club, he was keenly interested in Canadian history, and in his later years took University courses, joined Probus and continued his lifelong affair with the Stratford festival, the Arts and friends old and new. He was an intellectual, an expert ketchup maker, an avid reader and lover of books, an extreme note taker and letter writer, he was full of opinions and always had a story to share. He was especially proud of his family's history including the pioneering cottage near Bancroft in Hastings County. He truly enjoyed the cottage for over 83 years passing his love of it on to his wife, children, their spouses and his grandchildren. He has been cremated and interred in Woodlawn Cemetery beside his wife.
Donations to the Canadian Diabetes Society or Canadian Cancer Society.
Please join us to celebrate dad on Saturday, December 7th from 1-4pm at Erb and Good Funeral Home.