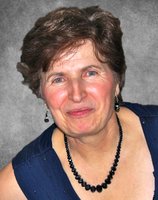 Rosaria (Rosie) Zefferino
Known to all as Rosie, lived a passionate life for family, faith, empathy, food and love.
As the anchor for her family, Rosie's passion was shared by the love-of-her-life for more than 63 years Benito, which brought her three loving sons Fernando, Dino and Massimo.
Despite the tough times she encountered, her unwavering faith in the Lord stayed true and unquestionable until her last breath.
A friend to anyone in need, Rosie's empathetic nature helped the lives of everyone she touched, offering words of encouragement, understanding and strength.
Cooking was more than meal-preparation for Rosie, it was a passion, and her way to bring family together. Her God given gift would allow her to make masterpieces out of thin air, that would be shared with those she loved. Nothing made Rosie more happy than watching the reactions from those who tasted her creations in astonishment.
Rosie's love was apparent in everything she did and her legacy of strength, encouragement, passion and family will be shared for generations to come.
Rosie fought her battle with cancer with a courageous attitude, repeatedly saying "I'm going to live, until I die." Her passing into her new life on November 30, 2019 was shared with her loving husband and three sons in the home she built and loved. She will be missed by her brother Antonio, sisters Graziella and Josephine and their families, her loving daughters-in-law Sabina, Laurie and Jennifer, forever cherished by her grandchildren Selina (Estebahn), Benny (Kerry), Marina, Isabella, Massimo, Amelia, Anabella, B. Rocco, Rosie and her great-grandchildren Diego and Maya.
The Zefferino family will receive relatives and friends at the Erb & Good Family Funeral Home, 171 King St. S., Waterloo on Tuesday, December 3, 2019 from 5:00 – 8:00 p.m. The Mass of Christian Burial will be celebrated at St. Michael Catholic Church, 80 University Ave. W., Waterloo on Wednesday, December 4, 2019 at 10:00 a.m. Interment will follow at Parkview Cemetery, Waterloo.
Condolences for the family and memorial donations to the Grand River Regional Cancer Centre (via Grand River Hospital Foundation) may be arranged by contacting the funeral home at www.erbgood.com or 519-745-8445.