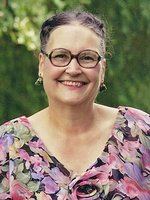 Kathryn (Hansuld) Lamb
1928 — 2020
Kathryn Lamb passed away on Friday, March 6, 2020 at age 92 at Trinity Village Care Centre in Kitchener, Ontario, after a lengthy decline.
Predeceased in 2012 by her devoted husband and former pen pal Richard Lamb, whom she married in 1954. The only child of Laura and Edmund Hansuld, she grew up on the Tavistock farm where her family has lived since 1862. Inheriting the farm before her children were teenagers, she operated it, recently in partnership with her son.
Sadly missed by son David Lamb (Mona Eichmann) of Tavistock, daughter Jennifer Lamb (Dwight Atkinson) of Vancouver, grandson Richard Lamb of Fergus, and granddaughter Heidi Lamb (Mitchell Thomas) of Waterloo. Remembered by sisters-in-law Jenny Wilson (Australia), and Hetty Lamb-Bayliss (New Zealand), and nine nieces and nephews.
Kathryn graduated with a Journalism degree from the University of Western Ontario. Hired in 1951 by The Kitchener-Waterloo Record newspaper, she became its longest continuously published columnist after 40 years of weekly Party Line columns about local people. For 28 years, she edited the weekly Stamp News column in The Record and Peterborough Examiner.
Serving on the boards of over 15 organizations, she was chairman of the Waterloo County Hall of Fame's board of governors, president of the Waterloo Historical Society and an editor of its annual volume. She loved sharing Waterloo Regional history in words and photos. Her high standards could intimidate budding historians, but she mentored many.
A Life Member of the Helena Feasby Women's Institute and the Kitchener-Waterloo Philatelic Society, she helped establish the K-W Garden Club, the K-W chapter of the Thyroid Foundation of Canada, the Pennsylvania German Folklore Society, and the Waterloo Regional Heritage Foundation.
Her dedicated community service was recognized with the 1981 Oktoberfest Woman of the Year for Culture, the 1983 Kitchener Award of Merit, the 1996 Outstanding Achievement Award from the Ontario Ministry of Citizenship, Culture and Recreation, and the 2003 Dr. Jean Steckle Award for Heritage Education. She was inducted into the Waterloo County Hall of Fame in 2001.
For over 50 years, she made an essential contribution to her husband's philatelic mail-order business, typing catalogues and accompanying him to international philatelic conventions to assist at bourse tables. She authored The Quiet Hobby about philately.
Kathryn lived most of her married life on a bucolic half-acre Bridgeport property, tending extensive flowerbeds and preserving produce from a huge vegetable garden. She made fudge with her son Dave, crafted marzipan fruit with her daughter Jenny, decorated gingerbread men with her grandson Richard and encouraged her granddaughter Heidi to play the piano. Her strong singing voice was heard in the Chordons choir and at Parkminster United Church where she was a founding member and archivist. Kathryn enjoyed fall fairs, CBC radio, musicals, hockey, the Blue Jays, powerful cars, solitaire, Scrabble, rose gardens, flower arranging, baking, and bird watching from her rocking chair.
Diminished by dementia diagnosed in 2007, she received compassionate care from Dr. Casey and the staff at Trinity Village Care Centre during her final eight years. Her brain tissue, donated to The Maritime Brain Tissue Bank, will aid dementia research. In memory of this clever capable woman, please accompany those who are on the dementia journey.
Cremation has taken place. Due to the COVID-19 pandemic, the Celebration of Kathryn's Life planned for May 9th, 2020 is POSTPONED to an undetermined date. Further information can be obtained by contacting the funeral home at 519-745-8445 or www.erbgood.com. Condolences for the family and donations to the Alzheimer Society Waterloo Wellington may also be made through the funeral home.
A photo album of Kathryn's life: https://tinyurl.com/uvf6ont
Articles outlining Kathryn's many achievements: https://tinyurl.com/u3clrt4