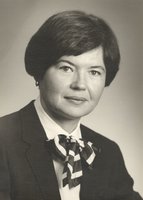 Catherine Margaret Raithby
Catherine Margaret Raithby (nee McCormick) passed away, at home and in the arms of her husband, on 14 March 2020 after a long and courageous battle with MS. She was a truly remarkable woman, greatly admired and loved by her family and many friends.
Cathy leaves her loving and still-smitten husband George, her daughter Heather Doyle and husband Peter, her son Daniel and wife Kirsten Reinhardt, and her grandchildren Sarah, Jacob, and Riley Doyle and Lauren and Grant Raithby. She also leaves caring siblings Neil McCormick (Kelly MacDonald) in Winnipeg and Paul McCormick (Elizabeth) in Ottawa.
Cathy was born in London, Ontario on October 18, 1940 to Donald McCormick, an actuary, and Margaret Johnston, secretary to the President, both at the London Life Insurance Company. Early in the war, Donald was welcomed to the Army for his mathematics skills, and moved the family to Ottawa where they remained after he was transferred to England. Once when Cathy was being walked by her mother they encountered Queen Juliana, who peered into the stroller and pronounced Cathy to be a beautiful child.
After the war the family resettled in London where Cathy showed promise as both a scholar, where she skipped a grade, and a budding athlete, as captain of the softball team. In high school at London Central Collegiate she was a gifted athlete in many sports, but especially tennis. In her final year, she was Queen of the Graduation Ball, and elected President of the Girls' Athletic Assoc.
Borne of her life-long ambition to help others, and reinforced by the untimely death of her father, she registered in the Nursing program at Western University. It was on the steps of the Victoria Nursing Residence, with another date, that she met her husband-to-be, George. When she finished her degree, they married and moved to Minneapolis, Minnesota. She joined the Neurosurgery unit of the University Hospital where she soon became Head Nurse. Following the birth of their first child, Heather, she resigned to join a research team so she could provide a more nurturing start for her daughter by working mainly from home.
From Minnesota the family moved to Munich, Germany to study and travel. From there, and much to the relief of her Mother that her husband finally had a real paying job, the family moved to Waterloo, Ontario where they welcomed their second child, Daniel.
Cathy helped the budding KW Symphony Orchestra by serving on the Volunteer Committee, including a term as President, where she focused on adding new revenue streams. She was later appointed as the first ever female President of the Symphony's Board of Directors where she achieved her goal of balancing the budget. In parallel, she completed her MBA at Wilfred Laurier University. For her community work, she was elected KW Oktoberfest Woman of the Year – Culture. With Dean Alex Murray she started the first Newsletter for Laurier's Business School, and started another Newsletter for a budding technology company in Waterloo. She also worked at Mutual Life. It was during this period that she developed her first symptoms of MS, and was formally diagnosed in 1987.
For the next 33 years, she courageously fought this horrible condition, examining every possible means to slow its progress. She never complained, and lived life to the fullest.
Summer months were spent at the cottage she helped build on Lake Temagami and winters, recently, in Florida. At home in Waterloo she continued to enjoy the company of friends from her high school class, Bridge group, Symphony, nursing class, and church. Family and friends from around the world gathered in Florida, at the cottage, and at home. Cathy was a long time Raptors fan and thrilled to see them win the Championship. She taught her grandchildren card games, including the fun of fierce competition and grace in victory or defeat. Cathy's early experience at Camp Inawendewin in Dorset, ON gave her an endless supply of camp songs and camp spirit shaped her life. She was a model for what her children, grandchildren, and husband could become as an ethical, caring and altogether beautiful human being.
With COVID-19 it is impossible to pick a safe time for a celebration-of-life service. Please consult the funeral home website: www.erbgood.com for information. If it would help in the grieving process by making a donation, Cathy requested that these be directed to the KW Symphony through the Erb & Good Funeral Home at the website above.