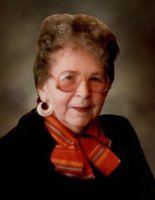 Esther Katharine Seip
Esther Seip passed away peacefully in her sleep at Sunnyside Home, Kitchener on Thursday, March 19, 2020 in her 99th year.
Esther was born in Hanover, Ontario on August 20, 1921, the daughter of Jacob J. and Wilhemine Louise (Helwig) Seip. She was predeceased by her parents, brothers Maurice, Carl, Gerald and Wallace, and her sister-in-law Marjorie (Peggy).
Esther is survived by her sisters-in-law Elizabeth (Carl), Ruth (Gerry), Judy (Wally), nephews James (Christine), Russell (Adeline), Richard (Christine), nieces Valerie (Glen) Lane, Cherie-Lyn (Arnold) Drung, Paula, and ten great-nieces and great-nephews.
Esther taught throughout the province of Ontario, including schools in Kurtzville, North Bay, Curve Lake Reserve, Mohawk Residential School, and Normanby. Eventually, she became a special education teacher at Harriston Public School where she taught until her retirement.
Esther was a woman of deep faith as a member of St. John's Lutheran Church in Waterloo for a number of years. She later became an active member of Grace Lutheran Church in Kitchener, very appreciative of the kindness and leadership of Pastor Korsch. She was grateful to be able to take Holy Communion with Pastor Korsch the week before her passing.
During her long and active life, Esther loved to read, enjoyed gardening and flowers, and studied Interior Design. She was a tenacious and strong-spirited woman who battled a variety of illnesses throughout her lifetime, including Rheumatoid arthritis, cancer and a heart condition.
Esther touched the lives of her friends at the Civitan Apartments where she lived for many years, Victoria Park Place, and finally Sunnyside Long Term Care Home where she received excellent care. Esther will be fondly remembered and missed by all her family and friends.
Following COVID-19 protocol, a brief visitation for family and close friends will be held at the Erb & Good Family Funeral Home, 171 King St. S., Waterloo on Thursday, March 26, 2020 from 6:00 p.m. to 8:00 p.m. A graveside service will follow at a later date at the Clifford Cemetery, where she will be laid to rest beside her parents. A memorial service is tentatively planned for August, 2020. Details will be announced at a later date.
As expressions of sympathy, memorial donations to Grace Lutheran Church, Kitchener, may be arranged by contacting either the church or the funeral home at www.erbgood.com or 519-745-8445.