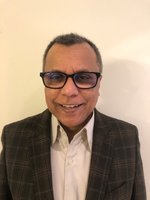 Dr. Monzur Murshed Kabir
With great sadness, we are announcing the passing of Dr. Monzur Kabir, who passed away in Kitchener on Saturday, July 11, 2020. Monzur will be remembered by his two sons, Tanzim and Tahamid, as well as by his loving wife, Munira. He will also be greatly missed by his three brothers, three sisters, extended family, friends, and colleagues.
Monzur first came to Canada in 2001 to provide a better life for his family. He worked hard his entire life and provided a good home and a great life for his family full of rich experience. Monzur began teaching at Conestoga College in 2003. He cared deeply about his students and colleagues. He devoted his life to educate and enrich everyone's life to the best of his ability. He touched people's hearts through his kindness, selfless behavior, and wealth of knowledge. Monzur was loved by his friends and community. There was overwhelming support provided by the local community and all his friends to help celebrate his life and honor his memory.
Special thanks for the kindness and care provided to Monzur by the Doctors and Nurses of the Intensive Care Unit at Grand River Hospital.
Condolences for the family and donations to the Grand River Hospital may be arranged through the Erb & Good Family Funeral Home, 171 King Street S., Waterloo at www.erbgood.com or 519-745-8445.