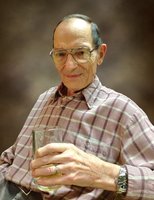 William "Bill" John Motz
To participate in the livestream service, please CLICK HERE
Died peacefully, after a brief illness, at St. Mary's Hospital, Kitchener on Thursday, November 5, 2020 at the age of 87 years.
Survived by his beloved wife of over 62 years, Doreen (Ludwig), his son John (Heather) Motz, daughter-in-law Liz Motz, grandchildren Will Motz, Kate Motz (Andrew Dube), Paul John (PJ) Motz (Jenn Georgiou) and Chris Motz, step grandchildren Scott Hergott and Tim Hergott, great-grandsons Adrian and Sascha Dube, siblings Margaret Motz, Ann (Ray) Bradley and Paul (Catherine) Motz, sister-in-law Marilyn Motz and sister-in-law Eileen Ludwig.
Predeceased by his parents Mary (Stoody) Motz (1967) and John Motz (1975), siblings John Motz (in infancy,1934), Rosemary Motz (1962), George Motz (2014), daughter Mary Rose Motz (stillborn, 1961), son Tom Motz (2020), sister-in-law and brother-in-law Rita (1999) and Charles (2011) Schmidt and brother-in-law Gary Ludwig (2010).
Bill was born in 1933 into the Motz newspaper family, which had been in the newspaper business in Waterloo Region since 1859, and owned The Record (now the Waterloo Region Record) from 1918 until it was sold in 1989. He was raised to be a newspaperman, graduating from the University of Notre Dame with a communications degree in 1958, after which he worked at the J. Walter Thompson advertising agency in Toronto, moving to the Kitchener-Waterloo Record in 1960. Bill worked in the newsroom at The Record until retirement, after the paper was sold, and was the last member of the Motz family to be employed there.
Bill's career as a journalist was in line with his life-long passion for world news. He was always ready to engage in a discussion about politics and world affairs and had a deep knowledge and understanding of history and current events. His interest in politics was such that some of the last discussions he had with hospital visitors, in the days before he died, were about the recent U.S. election and how he hoped things would go well, for the sake of the country.
Bill had many hobbies and interests throughout his life. He was passionate about music, especially classical music, and was a long-time supporter of the Kitchener-Waterloo Symphony Orchestra as an audience member, donor and as a board member for several years in the 1990s. He took clarinet lessons for the first time in his 60s, after retirement, and became a proficient player.
Bill, and his wife Doreen, were keen travellers, especially to Europe, and made two overseas trips each year for decades. They were ahead of their time in being fond of places which were off the normal tourist agendas, travelling to such countries as the Soviet Union, Bulgaria, Romania and Yugoslavia when they were still behind the Iron Curtain and little visited by westerners.
Bill was a prolific photographer, producing thousands of slides from his travels, as well as of local subjects. A photographic tinkerer, he made his own equipment for stereo photography which produced astonishing 3D images.
Although progressive in many ways, Bill was an "analog man" when it came to media, favouring film photography over digital, vinyl LP records over CDs and digital downloads, and hardcopy newspapers and books over electronic versions right to the end.
Bill was a philanthropist, supporting many causes in the arts, education and healthcare, including the Kitchener-Waterloo Symphony Orchestra, the Stratford Festival, the Kitchener Public Library, Conestoga College, St Mary's Hospital and Hospice of Waterloo Region.
Bill was a kind man and a true gentleman; quiet, but with a small shy smile often animating his face. He is missed already.
Special thanks to the fourth floor staff at St. Mary's hospital whose compassionate care made Bill's last few days comfortable and peaceful.
Due to COVID-19 restrictions, to attend the visitation for Bill, personal face coverings are required and friends and relatives must register (RSVP) by calling the funeral home at 519-745-8445.
Visitation will be held at the Erb & Good Family Funeral Home, 171 King St. S., Waterloo on Thursday, November 26, 2020 from 4-6 p.m.
A private funeral service will take place. Relatives and friends are invited to participate in a livestream of Bill's service on Friday, November 27, 2020 at 11am by registering at www.erbgood.com
Cremation will have taken place. Interment will take place at Woodland Cemetery, Kitchener at a later date.
Condolences for the family and donations to the K-W Symphony Orchestra or St. Mary's Hospital may be arranged by contacting the funeral home at www.erbgood.com or 519-745-8445.