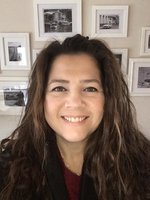 Penelope (Penny) Toogood
To participate in the livestream of Penny's service, please click here. Please note that the service will remain here as a recording at the conclusion of the ceremony.
Penelope (Penny) Toogood (nee Stathopulos), age 45, of Waterloo, Ontario, passed away peacefully, surrounded by her loving family, on Monday, March 1, 2021.
Penny was born in Kitchener, Ontario to Basile and Panagiota Stathopulos (nee Muratis) on August 6, 1975. Beloved wife of Daniel. Extremely loving mother of Evgenia (Eve) and Isabelle. Sister of Eugenia (Gerald) Schatz, Peter (Sue) Stathopulos, Margaret Stathopulos, Angela (Brian Burton) Stathopulos. Very proud aunt of Liam, Justin, Basile, Cora, Silven and Aris. Beloved daughter-in-law of Don and Pamela (predeceased) Toogood. Sister-in-law of Celeste (Chris Martin) Toogood. Caring Godmother of Liam and Ethan.
Penny attended Bluevale Collegiate Secondary School before earning her Hons. Bachelor of Arts Degree in Social Work from the University of Waterloo. Subsequently, she completed her Bachelor of Education Degree at Wilfred Laurier University. Penny cared deeply for the greater community and touched many lives during her position as a Social Worker. Her time spent working at Family and Children Services shaped her decision to be a stay-at-home mom and play an active role in her childrens' upbringing. When her daughters became of school age, Penny enjoyed being highly involved in their education and spent many hours volunteering in their classes, which ignited her passion to become a teacher. As her students and colleagues can attest to, teaching was Penny's calling.
Penny's incredible singing voice lifted the spirits of everyone around her. She proudly performed with numerous choirs including the prestigious Grand Philharmonic. Traveling, going for long walks with her dogs, camping in the great outdoors, cooking for large crowds, home improvement projects, reading books, listening to music and dancing like no one was watching, were all things that brought her tremendous joy.
Penny was the heart of our family and nothing meant more to her than bringing us all together. Her dear friends were an equally important part of her life. She always lived in the moment and possessed an inner strength that remains a constant source of inspiration for each of us. Penny's true gift in life was making everyone around her feel like they were the most important person on earth.
Visitation will be held at the Erb & Good Family Funeral Home, 171 King St. S., Waterloo on Sunday, March 7, 2021 from 2-4 p.m. and 7-9 p.m. To reserve a visitation time, please call the funeral home at 519-745-8445.
A private funeral service will be held at Saints Peter and Paul Greek Orthodox Church, Kitchener on Monday, March 8, 2021 at 11:00 a.m. A link to the live-stream of the service will be available at www.erbgood.com at the top of Penny's obituary page.
Condolences for the family and memorial donations to The Thalassemia Foundation of Canada can be arranged by contacting the funeral home at www.erbgood.com or 519-745-8445.
Penny's passing leaves an enormous, unfillable void in our lives, and she will be dearly missed forever.