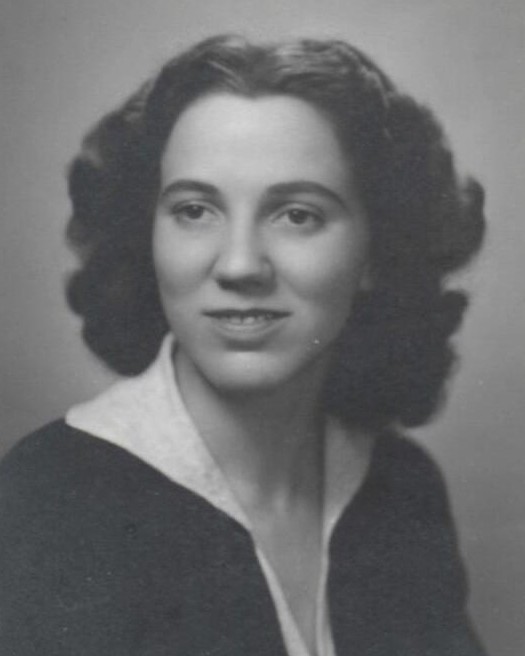 Louisa Mary "Louise" Millar Moir
December 12, 1923 - March 4, 2021
Bright and bubbly Louisa departed this world on March 4th. One of seven children of Ida and Frederick Millar, she was predeceased by her husband Gordon Moir, her brothers and sisters-in-law Douglas (Anne), J. Donald (Doreen), Robert (Elsie), Roderick and Frederick, and brother-in-law Robert Landers. Fondly missed by her sister Bertha Landers, sisters-in-law Alice and Janet, many nieces and nephews, and "Lorne Streeter" friends.
The Millar family lived on a farm on Highland Road on the outskirts of Kitchener. Louisa worked as a remarkably adept stenographer and as an office manager. She was a member of Stirling Avenue Mennonite Church where her fine alto voice made her a valued member of the choir. She enjoyed oil painting, gardening, sewing, and flower arranging. Her nieces were treated to sleepovers, dress-up, make-up, hair-dos and nail polish, and she spoiled her nephews with generous birthday and Christmas gifts and funny cards. Everyone loved her sunny smile, boisterous laugh, and distinctive fashion and decorative style.
After her marriage to Gordon, Louisa moved to Burlington where they enjoyed boating in the harbour. She was considered royalty on Lorne St and was a beloved grandmother figure to multiple "princesses" on the street who visited for dress-up, tea parties, and playing with the cats. Her home-made butter tarts and Brussels sprouts with secret raspberry vinaigrette graced the table of many neighbourhood gatherings. She was popular for welcoming the Hallowe'en trick-or-treaters in her in clown wig and costume.
Some years after the death of her husband, Louisa moved back to Waterloo to be closer to her family who are grateful for the care she received at Parkwood Mennonite Home and Columbia Forest Long Term Care.
A private funeral will take place on Saturday, March 13, followed by interment at Woodland Cemetery.
Donations in memory of Louisa to the local hospitals, SickKids Foundation, the Mennonite Central Committee, the Alzheimer's Society, or the charity of your choice would be welcomed and may be arranged via Erb & Good Funeral Home at 519-745-8445 or www.erbgood.com.
So long, Kiddo!