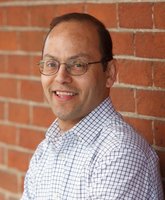 Jaime Ramirez-Serrano
It is with deep sadness in our hearts that we announce the unexpected passing of Jaime Ramirez-Serrano at the age of 53, who passed away on Friday March 26, 2021 in Waterloo, Ontario, Canada. The world has lost one of its most special souls much too soon.

Jaime was born in Mexico City, Mexico to Moises Ramirez Barrera and Nelly Serrano Maldonado on December 24, 1967. Following his upbringing and schooling, he went on to earn several degrees in Engineering and Physics from Universidad Nacional Autonoma de Mexico, the Massachusetts Institute of Technology, Universidad Autonoma Metropolitana, and the University of Maryland. His most recent work included his positions as a physicist for NASA's Jet Propulsion Laboratory, a University in Brazil, ColdQuanta in Boulder, Colorado, USA, and for Quantum Valley Ideas Lab in Waterloo, Ontario, Canada.
Jaime was a scientist, engineer, author, humanitarian and visionary.

He was funny, happy, active and thoughtful. He had many hobbies including bike-racing, reading, playing chess, had a brown belt in Tae Known Do, was interested in UFO's and was always open to trying new things. He had a special energy and touched everyone he was around.

He was a son, a brother, a twin, an uncle, among many other things. His love for God was strong.

Among his many skills and talents, he always knew how to connect and touch people on a deeper level, in a spiritual dimension. He was a deep thinker and considered reality, different civilizations and the Universe.
Jaime was also an author. He believed in improving humanity, such as his quote: "Competition may make a few feel better (for a short time), but collaboration makes everyone stronger (for eternity)." He always had the greater good in mind.
Jaime worked in Quantum Physics and some of his developments were launched into space by NASA. He saw the world in different dimensions. He appreciated technology, travelling, music, trying new things, and always seemed relaxed, no matter the task at hand. He was not afraid of challenge or change, as he worked and lived in many different countries including Mexico, USA, Brazil, and Canada. He also travelled to many different parts of the world including India, the United Kingdom, Italy, Uruguay and Argentina.

He was fluent in both Spanish and English, and also spoke Portuguese.

Everyone who met Jaime expressed how his caring nature touched them in a positive way.

Jaime will be dearly missed by his mother (Nelly), brother (Moises), brother (Alex), sister-in-law (Penny), nephew (Zachary) and niece (Taleah), family, friends, and work colleagues. He is preceded in death by his father (Moises).

If you wish to share your condolences with flowers, please send them to Jaime's mother:

Nelly Serrano Maldonado
Bahia del Rosario 3201
Fracc. El Mirador
22230 Tijuana, Baja California
MEXICO
Please find a link following for a flower delivery service in Tijuana, Mexico.
https://premiumflorist.com/flowers/mexico/tijuana-baja-california/all-products

Jaime's funeral service will be held at Erb & Good Family Funeral Home in Waterloo, Ontario, Canada on Saturday April 10, 2021 at 10:00am with Pastor Rev. Rafal Tomon of Our Lady of Lourdes Church officiating. If you wish to attend the in-person service, you must call the funeral home to RSVP +1-519-745-8445.
Visitation (closed casket) in-person will be held at Erb and Good Family Funeral Home on Friday April 9th, 2021 from 6:00pm to 8:00pm and Saturday April 10th, 2021 from 9:00am to 9:45am. Family and friends must call funeral home to RSVP +1-519-745-8445.
Jaime left us with a powerful message in the book that he was writing:
"… act with the vision of love, the mindset of possibilities, and the character of courage for their future. Loveless, mindless and fearful civilizations without an enlightened vision for their future eventually perish." We will be eternally grateful that in life, Jaime shared this love with all of us.