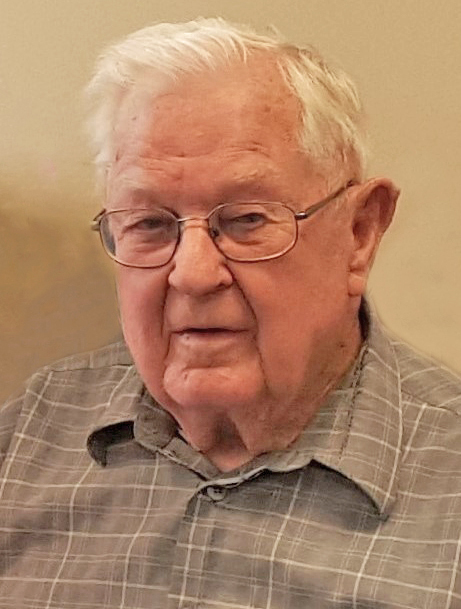 Robert Milton "Bob" Jordan
Robert Milton (Bob) Jordan, 99, of Waterloo, passed away into the arms of his savior on Monday morning May 31st, 2021 at the Westmount Long Term Care Center in Kitchener.
Bob was 4th born to Milton and Margaret (Fuller) Jordan on August 17, 1921 in Mitchell, Ontario. He had three older siblings, Olive (1986), Ted (2005), Ellenor (2013) and three younger, Norma (1954 whom died in childbirth) Lois and Audrey.
After high school and some time off, Bob joined the RCAF and served from March 1942 to July 1946. After being discharged Bob signed up to go to the Yukon as a signal maintainer. It was here that Bob grew to love the outdoors. After a motorcycle trip out west Bob attended Western University where he met his sweetheart and married Peggy (Moir) on Oct. 25, 1952. They shared 61 wonderful years together.
He worked as an Engineers assistant for the city of Waterloo for a number of years and then went on to Teachers College. Bob retired as a High school, science teacher at Waterloo Collegiate in 1982.
One of Bob's greatest joys was the building of his cottage on Loon Lake in Gravenhurst. This became Bob and Peggy's great get-away. Many relatives and friends came to pitch in and enjoy all that cottage life offered. So many happy memories were created there.
Bob is survived by his son, Paul (Helga), and son-in-law Fred. Loving Grandpa to six grandchildren and seven great grandchildren. Sadly, his eldest daughter Cathy, passed on nearly one year ago.
A private funeral service will be held on Tuesday June 8th at 1:00 pm to be followed by a private interment at Parkview cemetery.
The family wishes to extend their gratitude to all staff at the Westmount Long Term Care Center, by whom Bob's last years were comfortable and provided for.