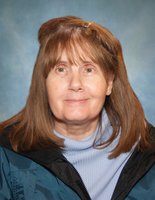 Judith Yvonne McClure
Judy passed away on July 24, 2021, a week out from her 72nd birthday. She endured a lifelong struggle with MS, facing the challenge with strength, dignity, a wonderful sense of humour, and a handful of cookies.
Judy was much loved and will be missed by her mother Yvonne Astley, sister-in-law Joan Astley, niece Kim Astley (Andrew Imrie), nephew Rob Astley (Shauna Wilde) and their children Grace and Luke, cousins and friends. She was predeceased by her brother Richard Astley in 2020.
Judy, along with her mother Yvonne, have spent the last several years living at the Wellington Terrace Long Term Care facility in Fergus. The staff there have been exceptional - the family will be forever grateful for the love and care shown to Judy.
Judy is very fondly remembered by her euchre club friends at both Wellington Terrace and Silverbrook Condominiums, as well as by her dear friend Dean, as someone who lived life one day at a time with unrelenting courage and never a complaint.
A private memorial will be held with family in September.