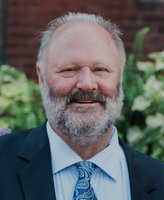 Peter Jackman Chandler
To view the Celebration of Life livestream, please click here.
Peter Jackman Chandler, age 68, of Waterloo, passed away peacefully at St. Michael's Hospital in Toronto on Thursday July 29, 2021 with his family by his side. Born in Toronto on May 22, 1953, son of the late Jackman and Ruth Chandler. Dearly loved by his wife Wendy, his three children – Matthew (Kira), Michelle (Michael), their mother Kathy, and Cheyenne, his three step-children – Jordan (Ashley), Sarah (Nicolas) and Joshua along with his nine grandchildren – Sienna, Preston, Spencer, Luke, Eleanor, Owen, Connor, Cedar and Emmett, a number to which, as a lifelong Blue Jays fan, he often remarked that he could now field a full baseball team. Peter ('Pop' to his grandkids) was the energetic, loving Patriarch of his family, all of whom reveled in his presence and his larger than life personality, and for whom 'making memories' was the most important thing; a moniker for which he recently christened his new boat with – "The Memory Maker".
Peter grew up in the Beach in Toronto and spent many happy summers fishing with his brother David on Constant Lake in the Ottawa valley, a spot which always held a special place in his heart and which he returned to nearly every summer. A teenager who came of age in the swinging sixties, Peter had long hair, played guitar in a rock band with his buddies and notably got turned away at the U.S. border while on route to the famous Woodstock music festival.
After becoming an Ontario Scholar in his final year of highschool, Peter attended and graduated from The University of Toronto with an Honours History degree, an intellectual passion and a love of learning which he always carried with him. Upon graduation, Peter entered the financial industry joining Merrill Lynch as a Financial Advisor where he quickly rose through the ranks thanks to his exceptional understanding of the markets and his charismatic people skills for which he was adored and respected by his countless clients. Accepting a position as Branch Manager for Midland Walwyn in 1991, Peter and his family moved to Waterloo where they put down roots, ultimately finishing his career as Senior Vice President, Director at Canaccord Genuity Wealth Management, from which he retired in 2019.
A prolific traveller, Peter loved exploring new cultures and countries, taking his entire family on many memorable trips, including the Amalfi Coast in Italy, the Costa Del Sol in Spain, the Outer Banks in North Carolina, the South of France and the Costa Rican rainforest, where he married Wendy in 2011.
Peter was an avid follower and debater of U.S. politics, U.S. history and the inner workings of Washington. He remarked to many that the pinnacle of his career was when he was honoured to introduce then former President Bill Clinton in Kitchener for an intimate, fireside chat.
An exceptional chef, Peter liked good food, good wine, but above all, he loved getting everyone together around the table to share in a meal and each other's company. Someone who fancied himself an honorary American, Peter and his family shared many happy times at their chalet in Ellicottville, New York which served as the family's anchor and happy place for more than a quarter of a century – where days were spent hitting the slopes at Holiday Valley in the winter, swimming in the pond in the summer and evenings spent around the fire, playing board games like Scrabble (the perennial champ), Rummy and Settlers of Catan.
Most recently, Peter achieved his lifelong retirement dream, moving up to 'the rock', an idyllic spot near Honey Harbour where he spent his final months boating, exploring, enjoying good meals & good wine, and making memories with his family.
A special thank you to the doctors and support staff at both St. Mary's General Hospital, Kitchener and St. Michael's Hospital, Toronto for their exceptional care and support.
A visitation will be held at Erb & Good Family Funeral Home, 171 King St. S., Waterloo on Wednesday August 4th from 2 p.m. to 4 p.m. and 6 p.m. to 8 p.m. A Celebration of Life will be held at Puddicombe House, 145 Peel St., New Hamburg on Thursday August 5th at 11:00 a.m. To attend the visitation and/or Celebration of Life, face masks are required. All guests must observe physical distancing and RSVP to the funeral home at www.erbgood.com or 519-745-8445. For those unable to attend, a livestream and recording of the service will be available on his tribute page on the funeral home website.
Condolences for the family and donations to St. Mary's General Hospital are appreciated and can be arranged through the funeral home at www.erbgood.com or 519-745-8445.