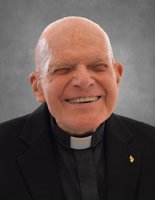 Reverend Edwin Richard Lapinski, C.R.
To RSVP to attend Visitation and/or Funeral Mass please click here
To view the livestream of the Funeral Mass Please Click Here.
Lapinski, Reverend Father Edwin Richard, C.R.
The Congregation of the Resurrection announces the death of Father Edwin Richard Lapinski, CR on August 4, 2021, of Columbia Forest Long Term Care, Waterloo. He was 95 years old, in his 76th year of religious life and 69th year of ordained priesthood.
Father Lapinski is predeceased by his parents Paul and Valerie (nee Zientara) Lapinski, and a brother Norman. He is survived and lovingly remembered by nieces Sharon (David) Christopher and Dori (Mike) Koza and nephew Norman (Myra) Lapinski, and many friends.
Fr. Edwin professed his religious vows in the Congregation on August 15, 1945 in Chicago, Illinois, and was ordained to the ministerial priesthood on June 7, 1952 in St. Louis, MO.
Fr. Edwin ministered as Associate Pastor at St. Stanislaus Kostka Parish, Hamilton, St. Joseph Parish, Brantford and St. Francis of Assisi, Kitchener and St. Stanislaus Bishop & Martyr Parish, Chicago. He served as Pastor at St. Gabriel's Parish, Burlington, Sacred Heart Parish, Kitchener, St. Mary of the Angels Parish, Chicago, IL and St. Stanislaus Kostka, Chicago, IL. Fr. Edwin transferred from the US Province to the 0-K Province in 1993. From 1995 Fr. Lapinski resided at Sacred Heart Parish, until he retired to Resurrection Manor, Waterloo in 2008. Fr. Edwin was House Superior for St. Mary's Canonical House. In 2019 he moved to Beechwood Manor, Waterloo.
A man of deep faith, hope and love Father Edwin's life of faithful service touched the lives of his parishioners, brother religious, and family during his life of dedicated ministry. Even with ever decreasing eyesight Fr. Edwin continued to actively reach out to his past parishioners ministering to their needs.
We wish to express our gratitude to Columbia Forest Long Term Care for the compassionate care they provided to Fr. Lapinski over the past 2 years.
Visitation of Father Lapinski will take place at Sacred Heart Church, 66 Shanley Street, Kitchener on Thursday, August 12, 2021 from 2:00 P.M. to 4:00 P.M. and 7:00 P.M. to 9:00 P.M. A Vigil Prayer Service will be held on Thursday evening at 8:30 P.M. The Mass of the Resurrection will be celebrated at Sacred Heart Church at 10:00 A.M. on Friday, August 13, 2021. Interment will take place at Mount Hope Cemetery, Kitchener. To confirm attendance to attend the visitation and/or funeral mass please RSVP through the Erb & Good Family Funeral Home at www.erbgood.com or by telephone 519-745-8445.
Donations in Fr. Lapinski's memory may be made to the Congregation of the Resurrection for the care of their retired members and forwarded to 265 Westmount Road North, Waterloo, Ontario, N2L 3G7 or on our website www.resurrectionists.ca or can be arranged through the Erb & Good Family Funeral Home, 171 King Street South., Waterloo www.erbgood.com or 519-745-8445.