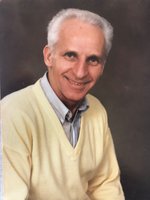 John Goertzen
It is with profound sadness that we announce the passing of John Goertzen on August 1, 2021 in his 86th year. His family was at his side at Wellington Hospice. He will be dearly missed by his wife of 60 years Stella and his four children Oksana, Carol (Bert), Brian (Patty) and Lisa. John's 12 grandchildren carry fond memories of their time spent with him - Olec, Orest, Breanne, Tristan, Keegan, Avonee, Kara, Alex, Damian, Emily, Spencer and Thomas. His last remaining sibling is Henry Goertzen. He will be missed dearly by his many nieces and nephews.
"Only a life lived for others is a life worthwhile". If you knew John then you know these are the words he lived his life by. His volunteering began in his 20's and continued right up until Covid stopped people from being able to volunteer. The list of causes and places he gave his time and energy to is too lengthy to detail. A few worth mentioning are The Intellectually Differently Abled, United Church, Women's Shelters, Habitat for Humanity, Canada Food Grains, The Gleaners, Victim's Services Niagara and the Emergency Department at Grand River Hospital. When he heard about the Victims Service Unit in the Toronto Police Force he made it his mission to bring it to Niagara where he lived. John, along with other men from Trinity United Church wrote the entire handbook and brought people in to do the training and established the VSU in Niagara. John was awarded Citizen of the Year in the town he lived in 1997. At the age of 72 he donated a kidney to a total stranger. Cut off age is 70 generally but he insisted they test him. He was the oldest donor they have ever had. He said people die waiting for one and I have 2 and don't need both. His last volunteering experience was the Emergency Department at GRH. He derived great joy in being of help to others in their time of need -always a smiling face, a kind word, a source of comfort.
A cherished time for all was the many summers John and Stella took various groups of grandkids camping. John also enjoyed cheering on the sidelines of the sports his grandkids participated in.
The world lost a true gentleman with a kind heart who never turned down a request for help. Cremation has taken place and there will be no funeral as per his request. We are hoping at a later date to join together to celebrate his amazing life. Donations in his honour can be made to Wellington Hospice or Victims Services Niagara.