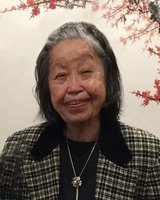 Hsu Hwei 林黃淑惠 Lin
To particiapte in the livestream service, please click here
It is with heavy hearts that we announce the passing of Hsu Hwei Lin. She died peacefully at Freeport Hospital on Wednesday, August 4, 2021 at the age of 90.
Predeceased by her parents Rev. Ng,Su-Beng(黃候命牧師) and Go,Eng-Tho (黃吳櫻桃), five brothers and two sisters among them her big brother Rev. Dr. Shoki Coe (黃彰輝牧師)
Beloved wife of Tsong Hue Lin (林崇煇) with whom she was married to for 64 years. Loving mother to Ruth (Andrew) Song, Kitchener, ON. Stephen (Mooilan) Lin, Miami USA and Lili Lin Lee, Singapore. Grandmother to Ben (Rachael), Debbie (Michael), Lizzie, Kevin, Emily, Christina, Michael and Gabriel. She is survived by two brothers 黃澄輝, 黃聖輝,in Taiwan, her sister 黃淑順, in USA and many nieces and nephews worldwide.
Mom loved God and was involved in many areas of the church. Hsu Hwei was an active member of Taiwaness United Church, Toronto. She was one of the first female graduates from Tainan Theological Seminary, Taiwan in 1952. She was a great writer and was the chief editor for Women Missionary Monthly Magazine. She wrote many stories on Taiwanese culture; 5 of her articles are in the Taiwan National Culture Library. She kept up with current studies and events, and received a Princeton University East Asian study certificate. Mom and dad drove from Toronto to Princeton every fall for many years and took many Taiwanese friends along with them to these workshops.
Mom was very artistic. She liked sewing and made many clothes for us. She and dad shared a love for Bonsais and cooking.
A private memorial service will be held at Knox Waterloo Presbyterian Church on Saturday, August 14, 2021, 10:00 a.m. The service will be livestreamed on Knoxwaterloo.ca or https://watch.nowmediaservices.com/knoxwaterloo
In lieu of flowers, condolences for the family and donations to Knox Waterloo or Charity of Choice may be arranged by contacting the funeral home at www.erbgood.com or 519-745-8445.