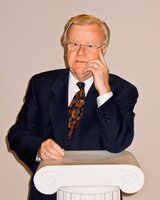 Dennis Mumby
To RSVP for the Funeral Mass, please CLICK HERE
The family of Dennis Mumby wish to announce his passing on Monday, August 30, 2021, at the age of 90, at his home in Waterloo. Dennis was born February 28, 1931, in Workshop England, the son of William Eli Darley Mumby and Ann Garrity. His mother's love of music was passed to Dennis who pursued his own musical interests over the years. His family owned a pub where many gatherings took place. It became a safe haven during war torn England, where Dennis, along with his brother Bryan, was known to raise a glass, tell tall tales, and enjoy music.
Survived by his beloved wife and best friend Eileen. Loving father of Anthea Mumby (Douglas Pinnell), Steven Mumby (Sara Wickenden) and David Mumby (Sheryl Mumby). Cherished grandfather of Daniel Hendley, Rhiannan Mumby Pinnell, Dalton Mumby, and Elliott Mumby. Will be forever remembered by his brother Bryan and sister in law Glenys.
Dennis joined the army at age 19 and completed his service in Austria as a radio operator. This experience inspired his ham operator hobby, where later in life he used Morse code to communicate with other operators throughout the world. His call sign was VE3 NEU. He met the love of his life Eileen, with whom he would build a family and many cherished memories over the decades. They married and moved to Kingston Canada in 1957, where they found a community that included jazz musicians. Dennis played the clarinet and piano in the Limestone City Jazz band. In later years, Dennis always took pleasure in telling stories about the jazz bands high jinks and shenanigans.
In 1975, he and Eileen moved to Waterloo where he decided to start his own business, Mumby Insurance Brokers. Dennis was known by his clients as an ethical man who put their interests first. This core value was carried throughout the daily decision making in the business. He always had a welcoming ear for his clients and would chat with them about business and their personal lives.
As a devout Catholic Dennis was very involved in his parish, St Agnes Catholic Church. He and Eileen were the key movers and shakers in the committee that brought three Vietnamese families to Canada, setting them on their paths to success in their new country. Dennis believed in giving back to various charitable organizations and developed an extended family of sponsored children around the world. He connected with them throughout their childhood years, writing long letters of encouragement and mentoring them to help them escape the circle of poverty.
As the insurance brokerage gained success, Dennis and Eileen started to travel throughout the world. Many new friends were made along the way as Dennis told his tall tales whilst Eileen flashed her Hollywood smile. Dennis sold the business to his daughter Anthea and spent his retirement years enjoying his hobbies of gardening, travelling, family get togethers and music. Dennis spent his last few weeks at home with Eileen, who was an earth angel by his side taking care of him as his health declined. He passed peacefully while holding her hand, giving it one final firm squeeze as his encouragement for her to carry on. Dennis will be missed for his wry sense of humour, interesting stories, charitable contributions, and exuberance for life.
Dennis strongly believed, "A man will be judged by the amount of good he brings into the world in his lifetime." His family and friends are grateful for the many good ways in which he has touched and influenced our lives.
At Dennis' request, cremation has taken place. To attend the Funeral Mass for Dennis, personal face coverings are required, and relatives and friends must register (RSVP) at www.erbgood.com or by calling the funeral home at 519-745-8445. The Funeral Mass will be celebrated at St. Agnes RC Church, 75 Bluevale St. N., Waterloo on Friday, September 3, 2021, at 11:00 a.m., with the Rev. Aleksander Mazur as Celebrant.
Condolences for the family and donations to Chalice https://www.chalice.ca/ would be appreciated as expressions of sympathy and may be arranged through the Erb & Good Family Funeral Home, 171 King St. S., Waterloo at www.erbgood.com or 519.745.8445.