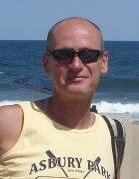 Jurgen Anton Schallenberg
To view the livestream and recording of the service, please click here.
It is with deep sadness that we announce the passing of Jurgen Schallenberg on August 30, 2021, due to a sudden heart attack.
Beloved husband to Ximena for 28 years and loving father to his sons Daniel and Sebastian. He will be celebrated and remembered with all the love in the world. He will also be deeply missed by his daughter-in-law Laura, his cousin Doris, sister-in-law and brothers-in-law: Stella, Ernesto (Maria Clara) and Jorge (Clara Sofia), and his nieces and nephews Carolina, Humberto, Juan Carlos, Alicia Maria, Maria Stella, Mauricio, Andres and their respective families, his co-workers and many wonderful friends. He is predeceased by his parents Walter and Rosie Schallenberg.
Jurgen touched many lives over the years because of his spontaneity, sense of humor, honesty and great sense of responsibility. He was an incredible music lover and a "connoisseur" of the history and anecdotes of his favorite musicians and artists; loyal to Bruce, "The Boss" until the end :) He truly enjoyed traveling, gardening, barbequing and spending time at the cottage and special moments with his family.
Visitation will be held at the Erb & Good Family Funeral Home, 171 King St. S., Waterloo on Saturday, September 4 from 12 - 2pm. The memorial service will follow in the chapel of the funeral home at 2pm. To attend the visitation and/or service, please RSVP through the funeral home at www.erbgood.com or 519-745-8445. A livestream and recording of the service will be available on his tribute page on the funeral home website.
In lieu of flowers, memorial donations may be made to the Heart and Stroke foundation and can be arranged through the funeral home at www.erbgood.com or 519-745-8445.