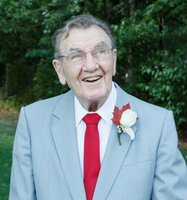 Bill Reimer
Bill passed away peacefully at St Mary's Hospital on Wednesday September 1, 2021 at the age of 94 from age-related decline. Bill is lovingly remembered by Ursula, his wife of 58 years, and by his son Mark and wife Helen. They miss him deeply, yet know that Bill is at peace now and in the presence of his Lord and Saviour Jesus Christ. They look forward to seeing him again. Bill will be remembered by all who knew him as a loving, generous, gentle man full of kindness and integrity. He was always ready to help anyone who needed it, enriching the lives of many.
Friends and family are invited to the Erb & Good Family Funeral Home, 171 King St. S, Waterloo on Sunday September 5, 2021 from 12:30 – 1:00pm for visitation followed by the funeral service at the same location at 1pm. A private internment will follow at Woodland Cemetery, Kitchener. To attend the visitation and/or service, please RSVP through the funeral home at www.erbgood.com or 519-745-8445.
A special thanks to all those who cared for Bill at St. Mary's Hospital for their compassion and care during his final days.