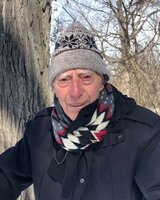 Tihomir "Tika" Petkovic
On August 21, 2021, Tika passed away at the age of 87 at St. Mary's Hospital, Kitchener. Tika is survived by his wife Marica, his children Goran and Nela (Dusan Stanojcic), and grandchildren Bojana (Diego Chacon), Tijana (Sasha Larsen), Nikola and Filip.
Tika was born in Glasovik, Serbia, on February 15, 1934, as the youngest of five. His parents, Ljubinka and Radoje Petkovic, had three daughters and two sons. All Petkovic children were very close throughout their lives, as they were their families.
Tika loved school and wanted to become an astronaut. Instead, he discovered computers, and in the 1960s became an expert with IBM systems, pioneering financial and payroll automation for the Automobile Factory "Crvena Zastava" in Kragujevac (Serbia) in the centre called ERC. His expertise was sought after throughout Europe, and his nickname "Tika from ERC" became synonymous with his legacy beyond retirement.
Having lost his dad at 17, he was forced to mature overnight. He believed in work, discipline, learning and integrity. He thought bridges should be built between all people regardless of their origin or religion and helped anyone in need selflessly. Tika never shared enthusiasm for boredom, often professing that there were not enough hours in a day to satisfy his thirst for knowledge. He was an accomplished chess player (even playing blindfolded chess), furniture builder, auto mechanic, athlete, avid reader, keen photographer, cook, … – an endless list for a true renaissance man. Tika loved science and nature, daily walks, pruning trees, music and film, and most of all, laughter. He dearly loved his children, grandchildren, relatives, friends, colleagues, neighbours. But above all, he loved his wife Marica of 63 years with the same passion as when they first met.
Although dementia slowly ate away at his beautiful mind, his sense of humour, kindness, and warmth stayed with him until the end.
We wish to extend a special thanks to the dedicated team at the Forest Heights Long Term Care Home and all the staff and doctors at St. Mary's Hospital for their compassion and care.
The family has chosen to hold a private funeral service.
Condolences for the family and memorial donations may be made to the Alzheimer Society of Canada which can be arranged through the Erb & Good Family Funeral Home, 171 King St. S., Waterloo at www.erbgood.com or 519-745-8445.