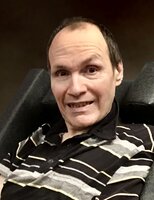 Jonathan W. M. Galvin-Sylvestre
Jonathan Galvin-Sylvestre, beloved son, brother and uncle. Free at last after 30 years of his life spent incapacitated from living a full life by a series of strokes he had at age 24.
Caring, curious, intelligent and mischievous, Jon had a talent for languages and a genius for kindness. Jon loved his family, animals, the outdoors, camping, and fishing. Black-and-white 'Bandy' was a special favourite of Jon's among the family cats.
Jon was very protective of his family and he enjoyed playing checkers, chess, cards, and board games with his siblings. They also enjoyed climbing the local water tower, learning about astronomy and the constellations, and trying to catch tadpoles together. Jon and Linda would ride their bicycles all day long at times (even on school days).
Jon's favourite music included '50s and '60s rock and roll, country music (Reba McEntire, Anne Murray, Crystal Gayle, Loretta Lynn) and gospel (George Beverly Shea, Elvis, Jim Reeves). His favourite television program was Dr. Who.
Jon studied Russian and French, grew four-leaf clovers, swam like a fish in Sudbury and French River, built snowmen that looked like they were going to walk away, played the guitar, and had an interest in and a special dream of traveling around the world and especially of visiting Africa.
Predeceased by parents Sarah Bernice nee McFadden and William Marcel Sylvestre and by beloved sister Linda Galvin-Sylvestre. Sadly missed by sisters Sharon Galvin, Marcella Galvin-Sylvestre, Susie Galvin-Sylvestre and Debra Sylvestre, brother David Galvin, and nephews Allen O'Neill and James Sylvestre (Sarah).
Jon was a courageous and inspiring warrior against illness.
Bon voyage, Jon.
Until we meet again on that beautiful shore, "Little Brother".
A private family visitation and funeral service will be held at the Erb & Good Family Funeral Home, 171 King St. S., Waterloo. Cremation will follow.
Condolences for the family and memorial donations to the Schizophrenia Society of Canada or a charity of your choice may be arranged by contacting the funeral home at www.erbgood.com or 519-745-8445.
Dawn
The veil of night is lifted
With dawn of day so bright
And so it will be when I cross
From Earth to Heaven's light.