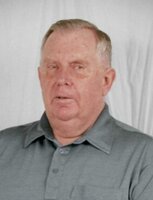 John "Jack" George Nesbitt
To view the recording of the graveside service, please CLICK HERE
A private family graveside service will be held on Saturday, July 9, 2022 at 2 p.m. ET, with Rev. Margaret Walker officiating.
Jack passed away 6 October 2021 in Dryden Ontario at age 88. He was born 28 April 1933 in Peterborough, Ontario, and lived for eight years in Ottawa before moving to the Kenora area. Jack attended North Bay Teachers' College. He began teaching in the Dryden area of Northwestern Ontario in 1954 and moved as a teaching-principal to The Valley in the Hamilton area in 1959. He held teaching-principal positions at Kugluktuk (Coppermine) and Tuktoyaktuk in the Northwest Territories for four years, and moved to Kitchener in 1969 with the Waterloo County Board of Education. Here he completed 34 years of teaching and principalships before retirement in 1988.
Jack is survived by Lorraine (nee Collins); Robert and his spouse, Dann in Toronto; Jim, his spouse Kathy and two grandsons, Alex and Eric in Michigan; Jeff and his spouse Tania, in Kitchener; one brother, Bill, and several nieces and nephews in the Dryden area. Jack was predeceased by his parents, Glena and Mervyn Nesbitt of Dryden.
Condolences for the family and donations to Go Getters Seniors Centre, Dryden or St. Mary's Hospital Foundation may be arranged through the Erb & Good Family Funeral Home, 171 King St. S., Waterloo, 519-745-8445 or www.erb good.com