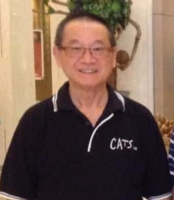 Quoc Luong Chung
To RSVP to the visitation, please click here.
On Wednesday, October 27, 2021, Quoc Luong Chung, loving husband of Huy Lang, father of Linda & David, grandfather of Landon & Caleb, passed away peacefully at the age of 71 from a short, but hard-fought battle with Acute Myeloid Leukemia.
Quoc was born on July 3, 1950 in Phnom Penh, Cambodia. He immigrated to Canada in 1985.
Quoc had a passion for Sudoku, spending hours with his pen and clipboard full of puzzles. He loved to tend to his garden, often sharing the abundance of produce with family and friends. He often frequented the Dollarama, his favourite, one-stop shop! Quoc enjoyed playing with his grandchildren and chasing them at the park. He was a fierce advocate for Autism on behalf of his grandson Landon.
Quoc was preceded by his father, Chein Yun, and his mother, Mei Lang. He is survived by his wife, Huy Lang, his children, Linda and David, grandchildren, Landon and Caleb, and his siblings, nieces, and nephews.
A funeral visitation will be held on Sunday, October 31st at the Erb & Good Family Funeral Home, 171 King St. S., Waterloo from 10:00 am to 12:00 pm, followed by a small lunch for family. Please RSVP on the website for visitation times.
In lieu of flowers, the family asks for donations to be sent to lchung25@hotmail.com or GoFundMe Page. 100% of the donations will be donated to Cambridge Memorial Hospital, Grand River Hospital and Landon's Autism school, on behalf of Quoc.