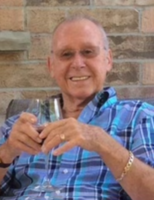 William Phillip Taylor
To view the livestream of Phillip's ceremony, please click here
Born in Trenton, Ontario on December 19, 1929, Phillip passed away peacefully at the age of 91, on Monday, November 15,2021 with his wife, Sue Anne Taylor, at his side.
Leaving behind to mourn extended family and cherished friends.
Father to Jeffery Taylor (Lynne), Christine Taylor and Whitney Taylor, children of Peggy Brownscombe. Father to Shelly Taylor and Victoria Taylor, daughters of Debra Taylor. Lisa Schenk, Carrie Schock (Rob), daughters of Sue Anne Taylor.
Proud grandfather of Jackson Taylor, Madison Taylor, Carter Pond, Emileen Pond, Aidan Vachon, Evan Vachon, Ava Schenk, Taya Schenk and Miles Taylor-Wilson.
Predeceased by parents, mother Luta Aota Taylor (nee Paro) and father William Halsted Taylor.
Golf enthusiast and long-time member of Westmount Golf and Country Club, Kitchener, Ontario (50yrs), and member of Jonathan's Landing Golf Club, Jupiter, FL. A designated Commadore, avid skier, fisher, boater and a self-made entrepreneur. Phil and Sue enjoyed many years travelling the world together.
Phil, a known successful businessman with a "glass half full" optimism, influenced and inspired anyone who was fortunate enough to make his acquaintance. Phillip Taylor was founder and President of Colonial Cookies, Kitchener, Ontario (1966) home to the Decadent chocolate chip cookie. He later became President of the Bakery Division, Beatrice Foods, with additional businesses to include Riordan Leasing Inc.
Phil leaves those he loved with fond memories and many smiles remembering the good times.
A private ceremony with immediate family and close friends, by invitation, will take place at the Erb & Good Family Funeral Home, on Sunday, November 21 at 2:00 p.m. Proof of vaccination is required. For those not attending, a link to the livestream of the ceremony will be available at the top of Phillip's obituary page at www.erbgood.com.
Condolences for the family and memorial donations to the Grand River Hospital Foundation, Kitchener or the St. Mary's Hospital Foundation, Kitchener may be arranged by contacting the funeral home at www.erbgood.com or 519-745-8445.