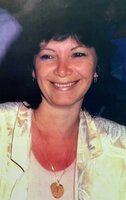 Jo Anne Jean Deutschlander
In sadness, but with celebration we announce the passing of our beloved, Jo Anne Jean Deutschlander, age 72, of Kitchener, Ontario. She peacefully passed away, surrounded by loving family, on December 19, 2021 in Kitchener, Ontario.
Jo Anne was born in Scarborough to Janet and Kenneth Crofts on July 27, 1949. The eldest child of four; Jo Anne moved to Waterloo at the age of 16. Later, she met and married Martin Deutschlander and raised two loving children.
Throughout her career, Jo Anne touched many lives and always had the respect and admiration of her coworkers and peers. She always had time for others and cared a lot. Most notable was her 35 year commitment to working for KW Habilitation Services. Where she was affectionately known by many as Mama Jo.
In 1996 Jo Anne had the honour of receiving the KW Octoberfest Woman of the Year award. In recognition of her outstanding contribution to the community.
She enjoyed coaching sports; Including bowling and track & field for many years. She was well known for her knitted slippers, which were always in high demand. In her spare time,
Jo Anne enjoyed traveling the world, poetry, reading, painting, knitting and photography. Jo Anne is survived by her loving family; Husband Martin R. Deutschlander, of Kitchener, Ontario. Daughter Kelly Shvartsman, (Dimitri Shvartsman) of Pender Harbour, British Columbia, Son Andrew Deutschlander, (Sarah Carroll) of Ottawa, Ontario, and extensive family.
There will be no Funeral service. A celebration of life will be held at a future date.
Memorial donations may be made to Canadian Cancer Society and Grand River Hospital Foundation.
The family wishes to extend their gratitude to the helpful and kind, palliative care staff at Freeport Hospital and the Grand River Regional Cancer Centre.
Jo Anne will be greatly missed by her loving family, and many friends that she considered and treated as family.