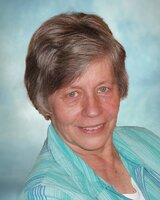 Jeanette Joan Nelson
To RSVP to the visitation and service, please click here.
To view the livestream of the service, please click here.
Passed away peacefully on Thursday, January 6, 2022 at Grand River Hospital in her 75th year after a short battle with leukemia. Her family was able to be with her to say their final goodbyes.
Loving wife of Keith for 48 years. Devoted mother of David and Mary Kathryn. Jean will be missed by her brother Paul Rehberg and his wife Martha, her niece Kathy (Anas) Rana and nephew Michael (Marina) Rehberg. Auntie Jean was loved and cherished by her great-nephews Yusuf, Bilal and Shawn Rana and most recently, Freddy Rehberg.
Also survived by sister-in-law Joanne (Dave) Hughes and brothers-in-law Terry (Marilyn) Nelson and Grant Nelson.
Predeceased by her parents Lloyd and Margaret Rehberg.
Jeanette grew up in Heidelberg. She started her teaching career at age 18 and was a full-time teacher for 13 years, first in Wellesley, then in Linwood. Later, she was a supply teacher for many years. She taught many grades, but the primary grades were her favourite and she will be missed by her former students.
She was a member of Christ Lutheran Church for 48 years. She spent many summers looking after the Community Garden at the church. For many years, Jeanette would bake dozens of cookies for the annual Church Christmas Bazaar, as well as help to run the "Nearly New" section during the sale.
She was a miniature hobbyist and a member of miniature clubs in Cambridge and Guelph. She would often spend hours creating miniatures as special gifts.
Jeanette was a morning person and would often start the day with crosswords or jigsaw puzzles. She loved to bake and kept trying to improve on already perfect recipes. She was always prepared to put together a large family dinner at a moment's notice.
In her lifetime, she was able to see whales and icebergs in Newfoundland, giant Douglas fir trees in Cathedral Grove, the Rocky Mountains, Peyto and Moraine lakes and both the Atlantic and Pacific Oceans.
She volunteered for many years with the Out of the Cold program at St John's, alongside her best friend Shirley Freeman. Later, she volunteered at the MCC Thrift Store where her job was pricing housewares. She became close friends with several of her co-workers.
She would often meet and befriend less mobile people in the community and spent much of her free time providing them with support and transportation as needed. Her thoughts were always on the needs of others.
Our family is grateful for her many friends who have shown such great support during her illness and since her passing. Thanks to the Grand River Hospital staff who were most accommodating and compassionate during this trying time, in particular the ICU nurses who work tirelessly on behalf of both patients and their families.
Due to COVID-19 restrictions, to attend the visitation and memorial service for Jeanette, personal face coverings are required, and relatives and friends must RSVP at www.erbgood.com or 519-745-8445. Visitation will be held at the Erb & Good Family Funeral Home, 171 King St. S., Waterloo on Friday, January 14th from 7-9 p.m. and Saturday, January 15th from 1-3 p.m. The memorial service will take place in the funeral home chapel on Saturday, January 15th at 3 p.m. with Rev. David Malina officiating.
Condolences for the family and donations to the Alzheimer's Society or Grand River Hospital - ICU may be arranged by contacting the funeral home at www.erbgood.com or 519-745-8445.