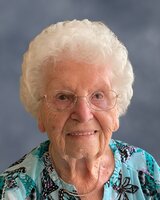 Anna Nowak
Anna Nowak (Klassen) lived a long and fulfilling life. When she died peacefully at The Village of Winston Park she was confident and secure in the love of her family and the love of God.

Anna/Mom/Oma loved her family. She and Victor had a loving and complementary marriage that set a wonderful example. She was devoted to her children. Then she generously welcomed their partners into the family. She was thrilled when she became Oma. Everyone in the family always knew that she loved them, was interested in their lives, was cheering for them and supporting them. They cherished her and were inspired by her.
She is mourned and celebrated by her children Goldine Pankratz (Jim), Nell Peters (Martin), Ed Nowak (Karen). By her grandchildren and great grandchildren: Carmen Pankratz (Jason) - Simon and Emma; Rachel Pankratz, (Sam); Matt Peters (Sarah) - Grayson and Macy; Kara Peters-Unrau (Kevin) - Micah and Lucas; Angela Garland (Nathan) - Olivia, Hannah, Alayna; Andrew Nowak (Sarah) - Ava and William. Anna was predeceased by husband Victor (2018) and son-in-law Ed Peters (2009)
Anna was born and spent her youth in Gnadenheim Russia/Ukraine. She was in teacher's college when she was separated from her family during the terrible turmoil of the last year of WW II. She found refuge in Bavaria, Germany. There she met Victor, a young, forced labourer from Poland, working on a German farm. They were married in 1946 and their two daughters Goldine and Nell were born in Bavaria.
Through unusual and miraculous circumstances, a sponsorship became available through the Red Cross and relatives in Kitchener. The family arrived in Canada as refugees on Thanksgiving 1948. When Ed was born a few years later the family was complete. Every year Thanksgiving was an occasion to celebrate their gratitude to Canada and those who supported them.
Anna was a trailblazer, had a natural entrepreneurial spirit, and adapted to new circumstances with determination and remarkable optimism. Her children, grandchildren, friends and neighbours benefitted from her many skills. Dresses were made or altered on short notice for an important event, curtains sewn for a new home, mittens, scarves, sweaters, and afghans knitted or crocheted. As her talent as a seamstress developed, she worked in retail bridal shops. Eventually she became a successful business woman as partner of Fashion Lane Ladies Wear and Bridal Salon in Waterloo.
Her hospitality and generosity were legendary. The Nowak Kitchener home and family table always had room for more people. Many Sunday lunches included university students she had met that morning in church. That hospitality continued in their cottage home near Port Albert on Lake Huron and their winter home in Parry Village, Florida. People were welcomed into their home, meals were delivered to those who needed them, and Anna and Victor always volunteered at events. When some of their children lived in Asia and Africa, food and other gifts were sent to them on very long journeys. Most, but not all, arrived prior to their "best before" date!
She loved to travel. On road trips she always had a map on her lap. Among their favourite trips abroad were the visits to Goldine and Jim in India and Nell and Ed in Zambia. In recent years, while living at Winston Park, she took delight in learning about the countries that her caregivers came from. She was fascinated by the stories of people's lives. She listened attentively and asked good questions. We thank those caregivers for the gentle, loving care they provided for Anna/Mom/Oma.
She loved to communicate, to get news and share it. If any of us wanted to know what other family members were up to, it was best to ask Oma. She was sure to have the latest news and she remembered much of the past. She kept a diary from the time she was eighteen till well into her nineties. She loved the telephone. Her line was usually busy with calls to relatives, family, and friends. And oh, the wonders of the fax machine. Her letters arrived instantly! She recently said that she wished that she had developed computer skills. She was delighted when her children helped her to visit with other family members by Zoom or FaceTime.
Anna's Christian faith was core to her life. She had regular devotional practices. She was active in Bible studies, a Ladies Fellowship, and Sunday School teaching at the Kitchener Mennonite Brethren Church. She expressed her Christian identity through generosity, hospitality, and love.
She had two favorite sayings that expressed her attitude to life. "Pay it forward generously," and "Leave a good reputation behind." She did both. Exceptionally.
"Thank you Mom/Oma. We love you dearly."
Private celebrations will take place at a later date.
To honour Anna Nowak's life, you are invited to donate to Mennonite Central Committee (MCC), The Working Centre, or any organization that provides food for those in need. Also, write a letter, email, or text message or phone someone to encourage them.