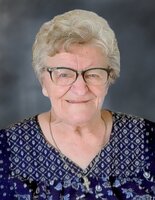 Alice Luella Kehl
To view the live-stream and recording of Alice's memorial service, please click here
Alice went to be with her Lord and Saviour Jesus Christ on Friday, March 11, 2022, at the age of 90. She was a resident of Twin Oaks of Maryhill Long-Term Care and a former resident of Fairview Mennonite Home in Cambridge.
Alice was a woman of deep Christian faith and dedicated to a life of service. She attended Goshen Mennonite Biblical Seminary and in June of 1956 was the first Mennonite woman to receive a Bachelor of Divinity Degree. She was ordained by the late Bishop C. F. Derstine in November of 1956 and served as a Missionary Deaconess of the Mennonite Church in Puerto Rico from 1956-1971. Later, Alice enjoyed working as a School Crossing Guard for 15 years with the City of Waterloo at Elizabeth Ziegler Public School. In retirement, Alice volunteered at Fairview Mennonite Home in Cambridge and sang in the Fairview Choir. Alice was a member of First Mennonite Church in Kitchener and served as an Executive member of the Hispanic Ministry. She was known for her hearty laugh. Special interests included church services and related activities, photography, music, reading, and day trips, but above all she valued relationships with friends she had made over the years.
Alice was predeceased by her parents, Stella Viola (Witmer) and John William Kehl and her sister and husband, Rose and Les Horner of Indiana.
Alice is survived by her nieces and nephews and their families in Indiana, Michigan and Florida, Don (Elsie) Horner, Fred (Sherry) Horner, Margaret (Gary) Guest, Eldon Horner, Warren Horner, and Patty (Don) Miller, as well as Witmer and Kehl cousins who included her as family. She is also lovingly remembered by dear friends including Sharon Contini and Loretta Fountain.
Sincere appreciation is expressed to Fairview Mennonite Home and Twin Oaks of Maryhill for the compassionate care Alice received in her later years.
Relatives and friends are invited to a Memorial Service to celebrate Alice's life and faith in the Chapel of the Erb & Good Family Funeral Home, 171 King Street South, Waterloo, on Thursday, March 17, 2022 at 9:30 a.m. (Wearing of masks indoors is requested) The service will be live-streamed and a link will be available at the top of Alice's obituary page at www.erbgood.com Immediately following the service, all are welcome to a graveside committal service at the First Mennonite Church Cemetery, 800 King Street East, Kitchener.
Memorial donations may be made to the Hispanic Ministry at First Mennonite Church or the K-W Humane Society by contacting the funeral home at www.erbgood.com or 519-745-8445.