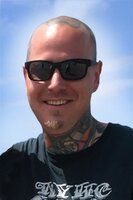 Nicholas Karpowicz
To View the Live Streaming of Nicholas' Service, Please Click Here.
It's the struggles that define us.
Nicholas chose to leave us on Wednesday, March 16th 2022 at the age of 37.
From a very young age Nicholas was artistic and loved music. He had a very creative side and was handy, just like his dad. We will never forget his silly sense of humour and infectious laugh. Nearly a decade ago he moved out west to further his welding career and start a family. Things out west didn't turn out quite as planned and Nicholas moved back to Ontario 3 years ago. During that time, he worked at the Harbourlite Restaurant and developed a love for woodworking. His dream was to open his own woodworking business called Anti Symetrical. If you are lucky enough to have one of his art pieces in your home, you know that you truly meant something to Nicholas.
Nicholas will always have a special place in the hearts of his son Fletcher, his mom Penny, his siblings Lindsey, Corby (Joelle), Ashley (Josh) and his girlfriend Cass. Much loved uncle to Izabella, grandson to Joan and great nephew to Aunty Anne. Predeceased by his dad Andy and his uncle Stephen. Nephew to Peter (Lisa), Paul (Sherry), Cherry and Wendy (Andrew).
The cousin get togethers will never be the same with out him - Christian, Amber, Steph (Steve), Wesley (Heather), Evan (Alex), Elissa, Shawn, David (Alyssa), Brooke, Kaden, Shea, Rory, Cole, Delphine and Ivy.
Dearly remembered by his family in England, Aunty Kit (John), Ian (Vickii), Joanne (John), Alex (Alex) and Liam (Katie).
Friends and family are welcomed to the Erb & Good Family Funeral Home (171 King Street S, Waterloo) on Saturday, March 19th from 1:00 to 3:00 pm with a service to follow in the chapel. Cremation will take place.
Our only wish is that everyone remember the kind hearted wonderful person Nicholas truly was.