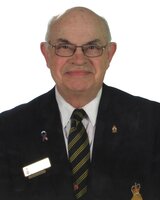 Ronald Joseph Hinschberger
It is with deepest sadness that we announce the passing of Ronald Joseph Hinschberger, a life-long member and servant of the K-W community. Dad passed peacefully surrounded by family. He was in his 79th year.
Dad is predeceased by three brothers; Tom (d Alice), Jim and Peter and will be mourned by his only sister, Betty (d Bill) and his youngest brother Michael. He will also be deeply missed by his wife of 59 years, Diane and their four children; Donna, Dan (Cathy), Dennis (Bonnie) and David as well as his many grandchildren; Tyson (Tinisha), Keaton, Mackenzie, Mackenzie, Craig, Brodie and Carlie, as well as his only great grandchild, Olivia.
Dad grew up in downtown Kitchener, the son of Walter and Florence (Reidel). Walter was a businessman and barber and both dad and his brothers Tom and Peter followed in Walter's footsteps in running Walter's Beauty Shop in between Braun's Bicycle Shop and Twin City Cab on King St. Dad ran that business into the late seventies, when hairstyles necessitated a change of direction, and dad subsequently worked in the meat packing business from then on to retirement in 2012 from Pillars Meats.
Dad was passionate in his early years about the Kitchener Highwaymen and the Kitchener Rangers, the former being a group of very well-meaning grease monkeys led by his neighbor and friend Don Hishon – always looking to assist a motorist in need. The time spent with his brothers in the early administration for the local hockey Rangers led to lifelong friendships with a number of Ranger greats from the 1960's. But later in life dad migrated his passion to the Royal Canadian Legion and was happiest devoting time to the local Waterloo chapter who were equally devoted to supporting our Canadian war vets in many ways including the annual Remembrance Day ceremonies at the downtown cenotaph. Among other roles, Dad had acted as President and Sergeant-At-Arms for Branch 530.
As a young man and a young father, Dad was a passionate sport enthusiast, having played hockey and football at St. Jerome's. He played pickup hockey at Waterloo Arena for years with a great group of guys and always supported the aspirations of his children no matter what sport they were involved with, but particularly baseball, hockey and football.
A lifelong Hamilton Tiger Cat and Pittsburg Steeler fan, our father kept the days those teams were playing as hollowed! He always backed the little guy/ the underdog, the blue collar worker, the black and yellow. He had a heart of gold and was fiercely faithful to his cause.
Our dad was a committed husband and father, always available for support, and he always provided the perfect example of what it meant to be a devoted friend. His example will be sadly missed by many, but especially his family and personal friends.
A very special thank you to the staff at Wellington Hospice in Guelph for helping to make dads' final days so peaceful.
Visitation will be held at the Erb & Good Family Funeral Home, 171 King St. S., Waterloo on Thursday, April 7, 2022 from 10 a.m. to 12 noon (Legion tribute at 10 a.m.) with the memorial service beginning at 12 noon in the funeral home chapel. A reception will follow at the Royal Canadian Legion – Branch 530 (316 Marsland Dr, Waterloo) from 1 p.m. to 4 p.m.
In lieu of flowers, donations can be made to the Royal Canadian Legion – Branch 530 and can be arranged through the funeral home at www.erbgood.com or 519-745-8445.