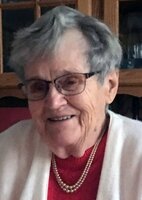 Anna (Anne) Friesen
To view the Livestreaming of Anna's Funeral Service Please Click Here.
Passed away peacefully at her home in Waterloo on Wednesday, March 30, 2022, lovingly cared for by her family in her final days.
Born on January 1, 1929 in the village of Margenau in Soviet Ukraine to Katharina (Schoenke) and Johann Schmidt. Anna came to Canada in 1947 where she first lived with her Onkel Hans and Tante Liese Schoenke in Hespeler. She married Jake Friesen and moved to Niagara in 1951. Loving mother of Walter (Anna), Arthur (Carolyn) and Leonard (Mary). Cherished Grandma/Oma to Angela (Mike Brown), Anna (Paul Kleinschmidt), Miriam, Isaac (Wanda Wall-Bergen) and Laura (Eric Schnarr); and great-grandchildren Abby, Ella, Benny, George, Isaiah, Otis, Raphael, Katrina, and Levi. Also survived by her dear brother George (Mary) Schmidt; Friesen in-laws Kay (John Millar), John (Lydia), Frank, and Abe (Elaine), and cousin Marlene (Schoenke) and Bill DeFehr. Anna was predeceased by husband Jake (2016), sister-in-law Pat (Friesen) and great grandson Arlo. Anna was a longtime resident of Vineland and firmly rooted in her Christian faith. For the last twenty years she enjoyed her many friends at Waterloo North Mennonite Church and in the community at Luther Village where she made her home.
At Anna's request there will no public visitation. A private memorial service will be held at Waterloo North Mennonite Church, Waterloo, on Monday, April 11, 2022 at 11 a.m., with Rev. Gordon Allaby officiating. The service will be live streamed at www.erbgood.com on Anna's tribute page and will remain on the funeral home website for future viewing. In lieu of flowers, condolences for the family and donations to House of Friendship (Kitchener) may be arranged through the Erb and Good Family Funeral Home, Waterloo at www.erbgood.com or 519-745-8445.