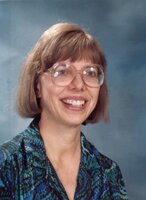 Audrey Elizabeth Hertzberger
Audrey died peacefully at Sunnyside Home on Saturday, April 2, 2022, at the age of 88. She was the only child of the late Henry Hertzberger and Lorna Schneider. Born in 1933 she was a lifelong resident of Kitchener-Waterloo. Audrey loved teaching young children and was a primary school educator in Waterloo Region. Retiring in 1989, she was recognized with the W.T. Townshend Award of Excellence. She travelled to all corners of the world throughout her life, eager to experience the diversity and culture of the people. She was able to combine her passion for travel and her love of teaching when she held a post in Soest, Germany teaching English and exploring the area to learn more of her parents' heritage.
Audrey was an environmentalist in her outlook on life. She lived frugally and gave generously to those in need. She tended garden plots and would often walk several miles between her home, her gardens and the people with whom she shared her produce.
Audrey is survived by her cousin, Nancy Elmslie of Thunder Bay. She was predeceased by cousins Marlene Gamble, Lois Bergen and Patricia Rand. She is lovingly remembered by her cousins' families. For most of her adult life, Audrey maintained a close relationship with her foster daughter Helen and family in Greece.
Audrey's family would like to thank the staff at Sunnyside Home for their compassion and care while she lived there. Cremation has taken place. Audrey will be buried alongside her parents at Memory Gardens in Breslau at a private family service.
Condolences for the family and donations may be made to the Waterloo Education Foundation, Sunnyside Foundation, or a charity of your choice through the Erb & Good Family Funeral Home, 171 King Street St. S., Waterloo at www.erbgood.com or 519-745-8445.