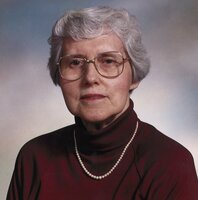 Estelle Fern Enns
To view the livestream, please click here
It is with sadness that we announce Estelle (Bartel) Enns passed away peacefully in her sleep on Friday, April 1, 2022 at Parkwood Mennonite Home in Waterloo, Ontario after a brief illness. Her warmth, generosity and faith touched not only her family, but also many friends and community members.
She was born on October 28, 1930 in Hillsboro, Kansas, the youngest child of Henry W. and Emma (Penner) Bartel. Estelle was the beloved wife of Herman Enns, whom she married on September 9, 1961. She is predeceased by her husband, Herman; three older brothers (Don, Melvin and Leroy Bartel); and her in-laws (Edna Bartel, Irene Bartel, Linda Bartel, and Ina Bartel as well as Anna Enns, Ed and Elizabeth Enns, Bill Enns and Con Enns). She is survived by Elsie Enns. She was a special aunt to many nieces and nephews. In her early life, she attended a one-room country school for eight years, enjoying the learning experiences it provided. She was baptized at the Johannestal Mennonite Church on June 9, 1946. In 1948, she graduated from Hillsboro High School.
After she began her working life, Estelle was able to experience growth in a variety of settings. Directly after high school, Estelle began working as an accountant at the Central Kansas Cooperative Creamery in Hillsboro, later becoming the office manager. In 1952, a bookkeeping job became available at Mennonite Publications Office and Bookstore in Newton, Kansas. Estelle decided she wanted to serve the church in this way, even if it was for less pay. She found this job to be meaningful and challenging. In 1958, she moved to Elkhart, Indiana to work as a cashier, receptionist and bookkeeper at Associated Mennonite Biblical Seminary. It was here that Estelle met Herman Enns, a student from Manitoba, Canada. Soon came a marriage proposal. Their wedding took place on September 9, 1961 in the country church in Kansas where Estelle had attended as a child.
Together, they began a new journey in 1962 when they moved to Ontario, where Herman had been called to serve as a minister at Hamilton Mennonite Church. While Herman was in this role, Estelle supported him in a variety of ways by teaching pre-school Sunday School classes, hosting a variety of people for overnight stays, assisting in the establishment of a Voluntary Service Unit and the Welcome Inn in 1966, and doing the bookkeeping for both. Additionally, she worked part-time as a bookkeeper at a real estate and insurance firm for nearly twenty years. After Herman's sudden passing in 1977, her life changed significantly, and eventually she chose some new pathways. In 1985, Estelle studied for one year in the Spiritual Growth program at Associated Mennonite Biblical Seminary in Elkhart. This was a very enriching experience for her. More changes came as she chose to move to the Eastwood Community in Kitchener, Ontario in 1987. She settled into her new condo, and for nearly twelve years assumed responsibility for planning some program events for the residents. She joined Stirling Avenue Mennonite Church, where she particularly enjoyed the music ministry and became involved on the Seniors' Services committee. For fifteen years, she also volunteered at a Ten Thousand Villages gift shop. Time for prayer, meditation and exercise was important on a regular basis. She was able to take advantage of some travelling opportunities as well. In 2011, she moved to Parkwood Retirement Suites, where she could participate in the life of that community in addition to continuing her church involvement and visits with friends and family. In 2020, she transitioned to the Weber Woods long-term care unit at Parkwood Mennonite Home.
Thank you to family and friends who gave encouragement and support in various ways throughout her life and especially to the caring staff in Weber Woods who provided for her needs during these last years.
Family and friends are invited to share their memories of Estelle at the Erb and Good Funeral Home, 171 King St. S., Waterloo on Friday, April 8, 2022, from 10:00 a.m. to 10:45 a.m. A memorial service will follow in the funeral home chapel at 11:00 a.m., with Pastor Glenda Ribey-Rozomiak and Pastor Kim Penner officiating. Everyone is respectfully requested to wear a mask. For those not able to attend, the service will also be live streamed at www.erbgood.com on Estelle's tribute page and will remain on the funeral home website for future viewing. As expressions of sympathy, donations to either Mennonite Central Committee or Associated Mennonite Biblical Seminary would be appreciated and can be arranged through the funeral home at www.erbgood.com or 519.745.8445. A private committal service at White Chapel Memorial Gardens in Hamilton will take place at a later date.
"God's grace has been sufficient."