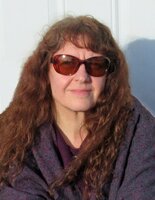 Lori O'Neill
To view the livestream, please click here.
With deepest sadness we announce the passing of Lori Ann O'Neill (nee O'Connor) peacefully at Grand River Hospital, Kitchener on April 4th, 2022, in her 56th year. After a two year, no-holds-barred fight with cancer (where cancer kicked below the belt), Lori defiantly took the cancer out with her.

Lori is survived by her husband Darryl O'Neill of nearly 34 years, mother to Jules (Elaine), Corrine (Michael), Nathaniel (Skye), Logan, Hunter and Coraline, along with many nieces and nephews.

Born on February 16, 1967, in St. Thomas, Ontario to Sandra (Schwartzmann) and Wayne O'Connor. Lori met Darryl in St. Thomas as children and they both moved to Waterloo while he was at university. Lori was an artist, toy maker and gallery worker. Lori and Darryl fostered and adopted several children together.
Special thanks to all the loving support of friends and family during these last two trying years.
Due to the rise in covid and several vulnerable friends and family there will be no visitation and the service will be virtual with a very small number of people in attendance by invitation. The service will be held at the Erb & Good Family Funeral Home, 171 King Street S., Waterloo Tuesday April 12, 2022, at 1:00pm. Cremation will have taken place.