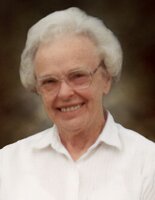 Lois Gertrude Bobier
To RSVP to attend Celebration of Life please click here
To RSVP to attend Reception please click here
To View Livestream of Celebration of Life please click here
Lois passed away peacefully April 6, 2022, at the age of 102 in the care of her family and a wonderful team of long-term caregivers. Born in Toronto March 19, 1920, Lois was the second daughter of William and Vera Davidson and younger sister to Jean (spouse Richard McGiverin). Her path in life followed her father's love of sports and her mother's love of languages and teaching. Growing up in Ontario she enjoyed cottage summers with her family. However, not as much as summer camp. She attended Camp Onawa as a camper and then through to staff member. It was a life that she loved and forever remembered. She saw to it that the outdoor challenges and deep friendships found in the camping experience would be passed on to her sons and grandchildren. She was a proud graduate of Victoria College of the University of Toronto where she majored in English. Upon graduation she became a high school teacher of English and PhysEd.
Following the war, she married Clair Bobier who earned a teaching position at the College of Optometry in Toronto. They enjoyed a loving marriage for 49 years. Lois ensured that their home was an active place. They entertained students, raised two sons, Bill and Paul. She shared in the lives of sister Jean, nieces, and nephews from the McGiverin and Bobier families.
In 1967 Clair became a professor at the University of Waterloo. The family moved to Kitchener. Lois became a staunch proponent for the development of the Centre in the Square and a generous supporter of the Kitchener Waterloo Symphony and the Stratford Festival. She taught English as a second language while she and Clair added Scottish Country Dancing to their couples'activities. Lois remained a member of Trinity United Church throughout her years living in Kitchener.
Her family grew over the years, mother -in -law to Jill (Bill), grandmother to Ted and wife Rachel Carter and Jacqueline and husband Chip Stroud. She was great grandmother to Charlie and Henry Bobier and Elliot Stroud.
Physical activity and a deep interest in the English language accompanied Lois throughout her lifetime and well into her later years giving foundation to her long, healthy and rewarding life.
The family would like to express their heartfelt thanks to the wonderful team of caregivers at the Village of Winston Park, both Egerton and Newberry neighbourhoods.
To celebrate Lois' life please join family and friends on Monday April 11, 2022 at 11am. at Erb and Good Family Funeral Home, 171 King St South, Waterloo, ON N2J 1P7 with a Livestream available at www.erbgood.com for those not able to be in attendance. A reception will follow the service in the Fireside Reception Room of the Funeral Home. The family asks that masks be worn and those wishing to attend the service and reception RSVP to the funeral home www.erbgood.com or 519-745-8445.
In lieu of flowers a memorial donation to Arthritis Society of Kitchener or the Food Bank of Waterloo Region would be appreciated by the family and may be arranged through the funeral home www.erbgood.com or 519-745-8445.