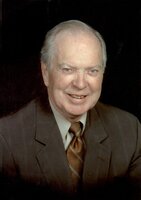 Kenneth "Ken" Percival Beal
To View the Livestream of Ken's Funeral Service Please Click Here.
Ken was a father, a friend, a mentor, a counsellor, a teacher.
He was born in Toronto to Emily (Tait) and Fred Beal, the middle child of five. He dropped out of high school during the Depression years, worked in a factory and in the broadcasting industry and eventually returned to school before the era of the mature student. He studied theology, was ordained a United Church minister and then did parish work in Manitoba for 7 years.
In 1967 Ken completed a hospital chaplaincy-training program at the Bowman Gray School of Medicine in North Carolina. This program not only shaped the rest of Ken's career but was fundamental to Ken's understanding of disease. It was here that the symptoms of Ken's long-time illness (a painful disease of the spine) became manageable for him. Ken returned to Manitoba to become Director of the Western Manitoba Guidance and Counselling Service.
In 1971 Ken was hired as the first Director of Pastoral Care to spearhead the new department at K-W Hospital and he and his family moved to Waterloo. During his 22 years as Chaplain, his job expanded to include many roles- administrator, teacher, supervisor, committee member, consultant. Ken's chaplaincy intern program produced scores of trained chaplains and pastors. Ken was active on committees for Long Term Care, the Canadian Cancer Society, and a Ministry of Health task force for organ donations. He was a member of the Waterloo Region District Health Council and the Ethics Committee at the University of Waterloo. He was a founder and board member of the Gotthard Booth Society for Holistic
Health.
Ken is survived by his life companion Kathy Hancox. He is father to Susan Beal, Dawna (David) Bate, Jon (Rose) Beal, Brenda Beal, Jodie (Jason) Meyer, Jennifer Hancox and Jackie (Jody) Sutherland. Ken is grandfather to Megan Beal, Stephanie Bate-Dube (Philip), Jasmin Beal (Cody Brideau), Zoe Beal, Noah and Ruth Meyer, Felipe and Emilio Sanchez Hancox, and Charlie Sutherland. He is also survived by his brother James Beal. Predeceased by his siblings Gordon Beal, Lorraine Ellis and Betty Mahnke.
We will miss his quiet presence, his wisdom and his sense of humour.
Ken's family will receive relatives and friends at the Erb & Good Family Funeral Home, 171 King Street St. S., Waterloo on Saturday, April 9, 2022 from 2 p.m. to 4 p.m. and 7 p.m. to 9 p.m. The Funeral Service to celebrate Ken's life will be held in the Chapel of the Funeral Home on Sunday, April 10, 2022 at 2 p.m. and will be followed by a reception in the Fireside Reception Room of the funeral home. A private family interment will be held at a later date. Those wishing to attend the visitation and/or funeral service are asked to wear personal face coverings. The service will be live streamed at www.erbgood.com on Ken's tribute page and will remain on the funeral home website for future viewing.
In lieu of flowers, condolences for the family and donations to the Grand River Hospital Foundation may be arranged through the funeral home at www.erbgood.com or 519-745-8445.