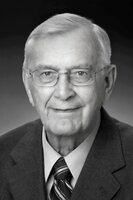 Robert Bruce Langen
To RSVP for the funeral service, please CLICK HERE
To RSVP for the funeral reception, please CLICK HERE
Our dear dad passed away peacefully on April 2nd in Kitchener Ontario, just shy of his 103rd birthday, in the care of his family and wonderful long term caregivers at the A. R. Goudie Home in Kitchener Ontario. He was a man who enriched us all with his love, good humor, quiet strength, generosity, and his steadfast faith.
He is survived by his two sons, Peter (Rene), and Jens (Karen), grandchildren Shawna, Kendra, Anders, Torin and Callan, and great grandchildren Talia, Kayla, Jaden, and Dylan. He was known as Far Far to some of his grandchildren, Grampa to others, and Robbie to his wife Ruth (nee Oelsner) of 72 years, who died in November of 2021. His parents were Ole Langen, born in Roros Norway and Maryann Langen (nee Kaiser), born in North Dakota. He had 5 siblings - Agnes, Harold, Adolph, Helen, Howard, and Lloyd, and 2 step brothers - Ted and Otto.
He was born in Torquay Saskatchewan and raised on a farm, where, as a young man, he and his family lived through the dust storms and Great Depression. One of his greatest gifts to us was the writing of a book about his family history, their struggles and triumphs, entitled Times for Courage. He wrote this in his mid 90's, and all the events are recounted with clarity, wit, and all the names and dates accurately delivered. He wrote it out in long hand with minimal editing, and it was typed up by his daughter-in-law Karen, who eagerly awaited each instalment to see what came next in his intriguing accounts of the family history. He once said that he left out many of the salacious details, always keeping the feelings of others in mind so as not to offend all these years later. It is a document that we will always treasure.
In his twenties he moved east to Arnprior Ontario to find work. He met his future wife Ruth Oelsner there through the local Luther League club. Ruth later went to Montreal to study nursing and received her degree. They were married at St. Marks church in Kitchener in 1950.
He received a bachelor of arts degree in 1948 and a bachelor of divinity degree in 1952, both from Waterloo College, now Wilfrid Laurier University. He later earned a master of arts degree in philosophy from the University of Toronto in 1956. He was asked to start the philosophy department at Waterloo College, was a professor of philosophy from 1954, and was the department chair at the time of his retirement in 1984. He is credited with establishing the fine arts program, building the university's collection of art, and quietly advocating for the creation of a permanent gallery. He was the first chair of the university's art committee from 1968 to 1977. Then he worked to encourage younger artists and build a well-rounded collection representative of Ontario and Canada. He established the artist in residence program, organized art history lectures by professors, developed a credit course in art history, and established an interdepartmental major in fine arts. He taught courses in philosophy of art and beauty, and also taught summer courses in Italy on two occasions, along with Michal Manson (fine art) and professor Ilse Friesen (art history). Robert was involved in many committees and organizations, including a local chapter of the World University Service of Canada, the Cultural Affairs Committee, and the St. Leonard's Society of Canada. He was also a recipient of the Hoffman-Little Award for teaching excellence in 1999, when he was an alumnus.
Robert was always carefully dressed in a suit and tie, and fully prepared for his classes. His formal attire stood out during the 60's, a time of student protests, drugs, and professors who looked more like their students than representatives of higher learning. Despite this, he was an approachable and affable professor and colleague, always willing to help, or defuse a situation with his humor and composure. This earned him appreciation and respect from both students and faculty. The university recognized his varied contributions by awarding him the rank of professor emeritus in 1984.
Before becoming a professor, Robert was an ordained Lutheran pastor in the Canada Evangelical Lutheran Church. For several years he presided over 3 rural parishes near Ottawa in Rankin Township. He and Ruth lived in a modest house provided by the church, along with many mice, and had neighbours who thoughtfully delivered fresh eggs and chickens to the young pastor and his wife. They were long time members of Saint John's Lutheran church in Waterloo and were quite active, contributing at council meetings and writing articles for the church newsletter and for special anniversaries. Robert was also a member of the Eastern Synod of the Lutheran Evangelical of Canada and attended annual meetings when he was able.
After Robert's retirement from the university, Michal Manson (deceased), an artist who was in the residency program and later became a full time faculty member, along with several others, also advocated for the establishment of a permanent art gallery at Wilfrid Laurier and insisted that it be named for Robert. "Those who cherish and, even more, promote the beauty of ideas and the idea of beauty are rare" she said of professor Langen. Thanks to their insistence, the Robert Langen Gallery was established in 1989, and was relocated more recently to the university library, where it enjoys a prominent position on the main floor and is host to many well curated exhibits.
After retirement, Robert and Ruth moved to live permanently on their "farm" of 100 acres outside of Lucknow Ontario. They thoroughly enjoyed a beautiful life of daily walks, appreciating nature, gardening, and cooking wonderful meals. There were always chores to do, which kept them both happily busy, and dad surprised us all by building a kitchen addition onto the original small house, and then digging 3 six foot deep trenches to support the foundation for a breezeway addition. He did this in his mid 70s! Between the gardening and the upgrades to the homestead, it seemed the farmer instincts were still there and well expressed.
They hosted many gatherings at the farm. Thanksgiving was an annual event and always included longtime university friends Delton and Verna Glebe, and Ragnar and Donna Teigen, along with their children. Other get togethers included the Reverend Donald Stewart and his wife Ilse, a professor at Wilfrid Laurier. Another professor from Laurier, Helen Melichercik and her family, were frequent visitors. Long time friend May Ann Kainola and her son Robert often visited. These are just a few of many friends and relatives who enjoyed excursions to the farm for food, friendship, and walks in the woods. It was also a retreat for his sons Peter and Jens, and wives Rene and Karen and the grandchildren. Family visits were frequent, mom and dad were always so welcoming and loving to us all, and time with the grandchildren was well spent with adventures outside, fun in the kitchen and at the piano.
When health and energy started to fade, they moved back to Kitchener to be close to family and friends, living in an apartment near Belmont Village. The entertaining continued, as did the good cooking. They were close with many of his nieces and nephews, and were always delighted to host annual visits from his brother Harold's grown children, where stories about dad's family were shared with much laughter.
Time eventually caught up with them and they were fortunate to both be moved to long term care at the A. R. Goudie Home in Kitchener, just one room apart from each other. Robert would always dress well and use his walker to make the short commute to Ruth's room, to sit with her for much of each day. Ruth died peacefully on November 26th of 2021 with Robert by her side.
More recently, as he was bed ridden and unwell, he looked around the room to see us sitting quietly with bereaved looks on our faces, and started to laugh. He didn't want us to be sad about what was to come, and he apologized in advance for letting it happen. He could find some humor in almost any situation, and for that we are grateful.
We will always remember this gentle giant of a man, who was proud yet humble, a good listener, unflappable, generous, and whose strength and longevity he would attribute to his deep and abiding faith. We are so blessed to have been loved and guided by him for all these years, and to have the gift of his example to encourage us in our own lives. He was loved and admired by too many to mention here, and was adopted as a surrogate parent by several long time friends and relatives. A full life well lived.
A visitation for both Robert and Ruth Langen (deceased November 26, 2021) will be held at the Erb & Good Family Funeral Home, 171 King Street South Waterloo, on Friday April 29th, from 2pm until 4pm and 7pm to 9pm
The funeral service for Robert and Ruth will be held at the Erb & Good chapel the following day, April 30th at 2pm, with reception to follow. All relatives and friends must register (RSVP) for the funeral service and reception.
As expressions of sympathy donations to Canadian Lutheran World Relief would be appreciated. Condolences and donations may be arranged through the Erb & Good Family Funeral Home, 171 King Street S. Waterloo at www.erbgood.com or 519-745-8445.