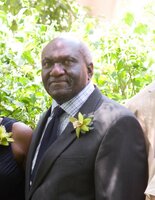 Stephen Scott
With great sadness, we announce the sudden passing of Stephen Benjamin Juma Obiero Scott, at the age of 73. With his wife and children by his side, Stephen was called to be with the Lord on April 18, 2022, in Kisumu, Kenya. Devoted husband to Sylvia Adoyo and loving father to Christine (Racil), Sarah (Isaac), Joshua, and Rachel. Stephen especially cared for his grandchildren Noah, Lily, and Alexander. Fondly known as Chief, his many friends, colleagues, and community members will miss Stephen's presence.
Stephen came to Canada in 1969. He earned three degrees at the Ontario Bible College, Wilfrid Laurier University, and the University of Toronto.
Stephen's passion for serving others was unparalleled. He found joy in teaching high school science and established the charitable organization Caring Partners Global to provide access to health care, education, food security, and skill development in Matangewe Village, Bondo, located in western Kenya. Stephen's work has had a positive impact on the lives of many.
Stephen was laid to rest in his home village of Matangwe on May 2, 2022. A memorial service will be held on Saturday June 25, 2022, at 1:00pm at Benton Street Baptist Church, 90 Benton St., Kitchener.
In memory of Stephen, donations can be made to Caring Partners Global www.caringpartners.ca