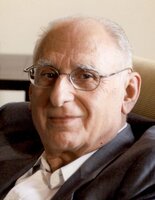 George Pefanis
George Pefanis, age 85, died peacefully at his home on Tuesday April 26, 2022, in Kitchener, Ontario.
He is survived by his wife of 53 years Maria; his sons Constantine (Belinda) and John (Raechel); and his grandchildren Adam, Evan, Matthew, and Rebecca.
George was born in Kalamata, Greece, often spending summers in the nearby town of Nedousa where his family had its roots. He attended the School of Industrial Studies in Athens and also served as an officer in the Greek military. At the age of 26, George immigrated to Canada where he settled in Toronto. He met his wife, Maria, in 1968 and together they lovingly raised their two sons. George was employed with the Royal Bank of Canada for 44 years until retiring in 2000. He loved music, art, carpentry, studying history, reading, and tending to his garden. A deeply thoughtful and eloquent man, George dedicated his life to his family. He was a beloved husband, father and friend who will be deeply missed.
Visitation will be held at the Erb & Good Family Funeral Home, 171 King St. S., Waterloo on Monday May 2, 2022, at 12pm. Service will be held in the chapel at 1pm on Monday May 2, 2022, with reception and meal to follow.
Condolences to the family and memorial donations may be may to SickKids Foundation and may be arranged by contacting the funeral home at 519-745-8445 or www.erbgood.com.