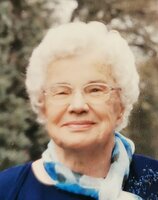 Marta Schafer
It is with generously thankful and saddened hearts that the family announce the passing of Marta Schafer, née Janzen, on April 27, 2022, at the incredible age of 106 years, 5 months and 2 days.
Marta was born on November 25, 1915, in a small town called Tiege, in Ukraine - then a part of Czarist Russia - to parents Bishop Jacob H Janzen and Helene Braun. Her parents, four brothers and six sisters were able to leave Russia and arrived, after one month of gruelling uncertainties, in Waterloo, Ontario in December 1924, just after Marta's 9th birthday. She lived in Waterloo for almost 98 years! She was a member of Mount Zion Lutheran Church in Waterloo and also of W-K United Mennonite Church in Waterloo where her father, the founder, was the respected Bishop of that congregation. Marta was also a Sunday School teacher. She has lived a life devoted to her faith. Marta graduated from The Stratford Normal School in 1935. She had a 35-year career at Dominion Life in Waterloo.
Marta is predeceased by her husband Stanley Charles Schafer (1999) and her two sons Glen (2018) and Grant (2019), her siblings, Heinz, Erna, Helga, Liesel, Alexandra and Sieghard, her step-siblings, Hans, Elfriede, Kathe and Woldemar Neufeld. She is survived by and will be greatly missed by her grandchildren, Nataliya, Alixandriya, Devon and Cayla Schafer and her daughters-in-law, Janet Schafer (née Currie) and Diana Schafer (née Brugmann) as well as many nieces and nephews.
Our heartfelt grace is offered to the nurses, PSW's and staff at Parkwood Mennonite Home who took the utmost gentle care of her vivacious, feisty, witty and humorous self for almost 4 1/2 years. We are immensely grateful!
A Funeral service will be held at Mount Zion Lutheran Church, 29 Westmount Road South, Waterloo on May 13th at 11am, with a reception to follow. A private family internment will take place prior to the funeral at Mount Hope Cemetery.
In lieu of flowers, the family asks that expressions of sympathy be made to either Mount Zion Lutheran Church or Parkwood Mennonite Home, both in Waterloo.
The Lord bless you and keep you; the Lord make his face shine on you and be gracious to you; the Lord turn his face toward you and give you peace.
You are so precious to so many. We love you and shall miss you terribly.