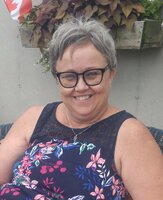 Louise Anne Tremblay
Louise Anne Tremblay, beloved Mother, Nana, Sister, and Friend passed away Monday April 25th, 2022, after a long battle with depression.

Her love lives on through her children; Maxwell Nesbitt, her gentle giant; Rebecca Flanagan, her best friend; Brent Flanagan, who she was proud to call her son; and grandchildren Norah and Maverick Flanagan, the sunshine her world revolved around. She is also survived by her sister, Susie Tremblay and nephews Matthew, Lucas and Trevor. Predeceased by her parents John and Rose Tremblay and sister Debby (Debra) Weiler who she sorely missed for so many years.

Louise was a strong independent force with accomplished careers in corrections and customs. She kept all of her friends along the way laughing with her coy and untamed sense of humour. She loved to drive her Camaro. The personalized Mrs. Depp plates let you know it was her and if you listen closely, it's Queen or MJ playing inside. Her coat pockets were always filled with treats and soap for Norah and Maverick. After gossiping for hours with Becky and talking world events with Brent, she'd be found snuggled up with Max watching the newest episode of Gotham.

Mom, you always listened without judgment. The centre of our world. You'd be so proud of the family and friends who have pulled together for us. You'd smile and be proud of Grandpa (Brad Nesbitt) too, for immediately taking on the role of shepherd to your flock.

Our beautiful Mama, rest now and be free. We love you with all our hearts. Love lives on.

Stories and memories are welcomed by the family.
To honour Louise, donations can be made to Canadian Mental Health Association and can be arranged through the Erb & Good Family Funeral Home, 171 King St. S., Waterloo at www.erbgood.com or 519-745-8445.